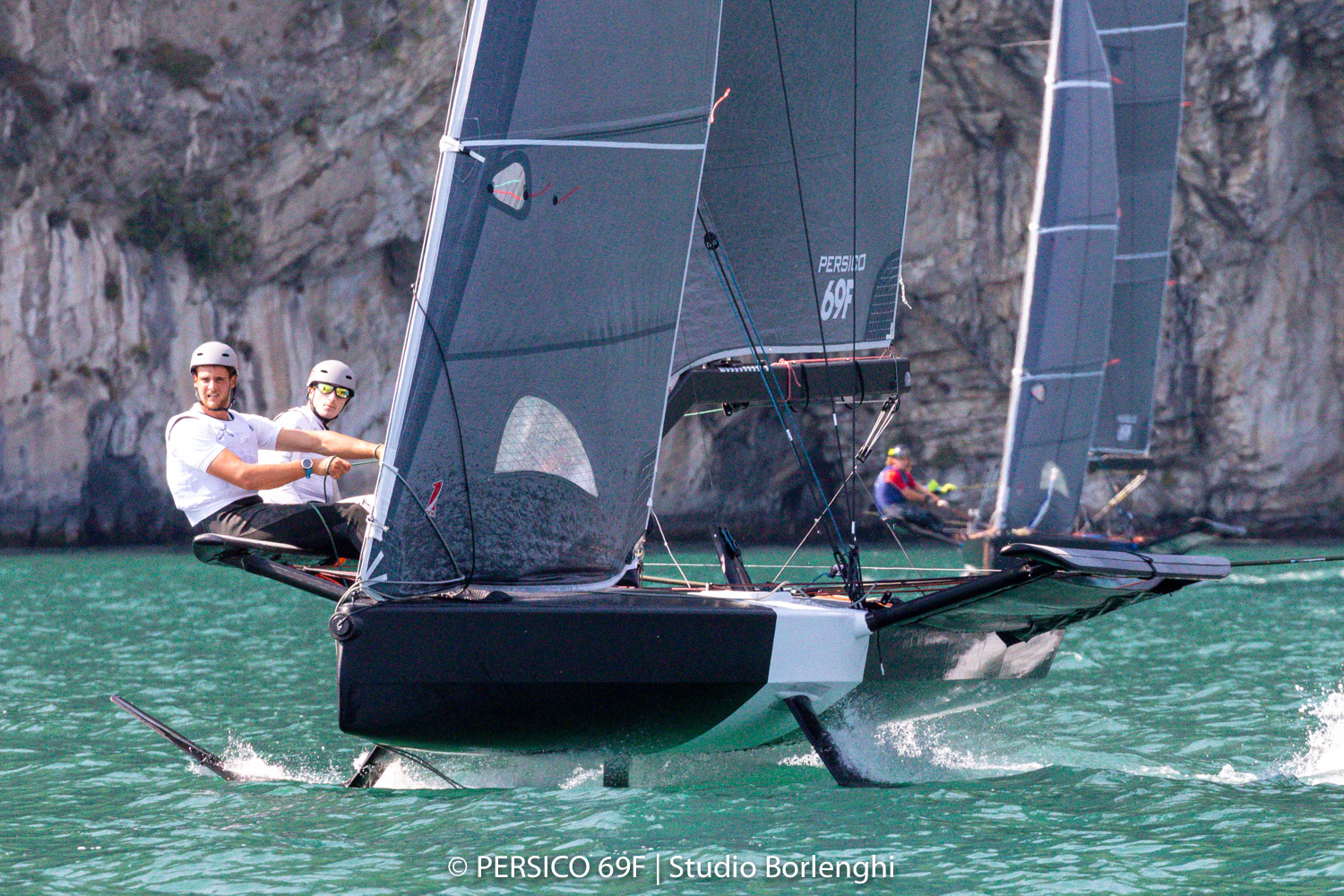 Young Azzurra on the regatta course again, Federico Colaninno confirmed as team member
Malcesine, Lake Garda, Italy. 22 September 2020. Getting underway this morning and running through Thursday, 24 September, Young Azzurra are back racing in the second Grand Prix of the Persico 69F Cup, the circuit dedicated to the new foiling one-design that is garnering an increasing following. Today's unstable weather conditions, however, caused an unusual lack of breeze, forcing the entire fleet to remain ashore and postponing the start of racing until tomorrow.

Since placing second in their debut outing in August, again on Lake Garda for the Persico 69F Revolution, the Young Azzurra team have continued their training programme. Skipper Ettore Botticini has been alternating different sailors in crew roles, with the aim of forming the best possible team of new Italian sailing talent for the YCCS youth sailing programme. Despite the cancellation of the Youth America's Cup in Auckland due to the pandemic, the objective set by the YCCS has not changed or moved down a gear.

Federico Colaninno, who last Sunday won his second consecutive Italian championship in the Finn class, has officially been confirmed as part of the Young Azzurra team in the role of flight controller, joining skipper Botticini.
During the current Grand Prix, Francesca Bergamo will return to Young Azzurra, while Erica Ratti will make her regatta debut with the team. Observation of other young sailors, with a view to joining the team, will continue with the support of FIV, the Italian sailing association.
The weather forecast indicates further instability over the coming days, however despite tomorrow's bad weather, Lake Garda's traditional 'Peler' wind is likely to form.
For more information, interview requests for YCCS representatives or the Young Azzurra skipper, contact the YCCS Press Office.
Contacts
YCCS PRESS OFFICE

Marialisa Panu/Giuliano Luzzatto
Tel. +39 0789 902223 - +39 348 5966160
pressoffice@yccs.it