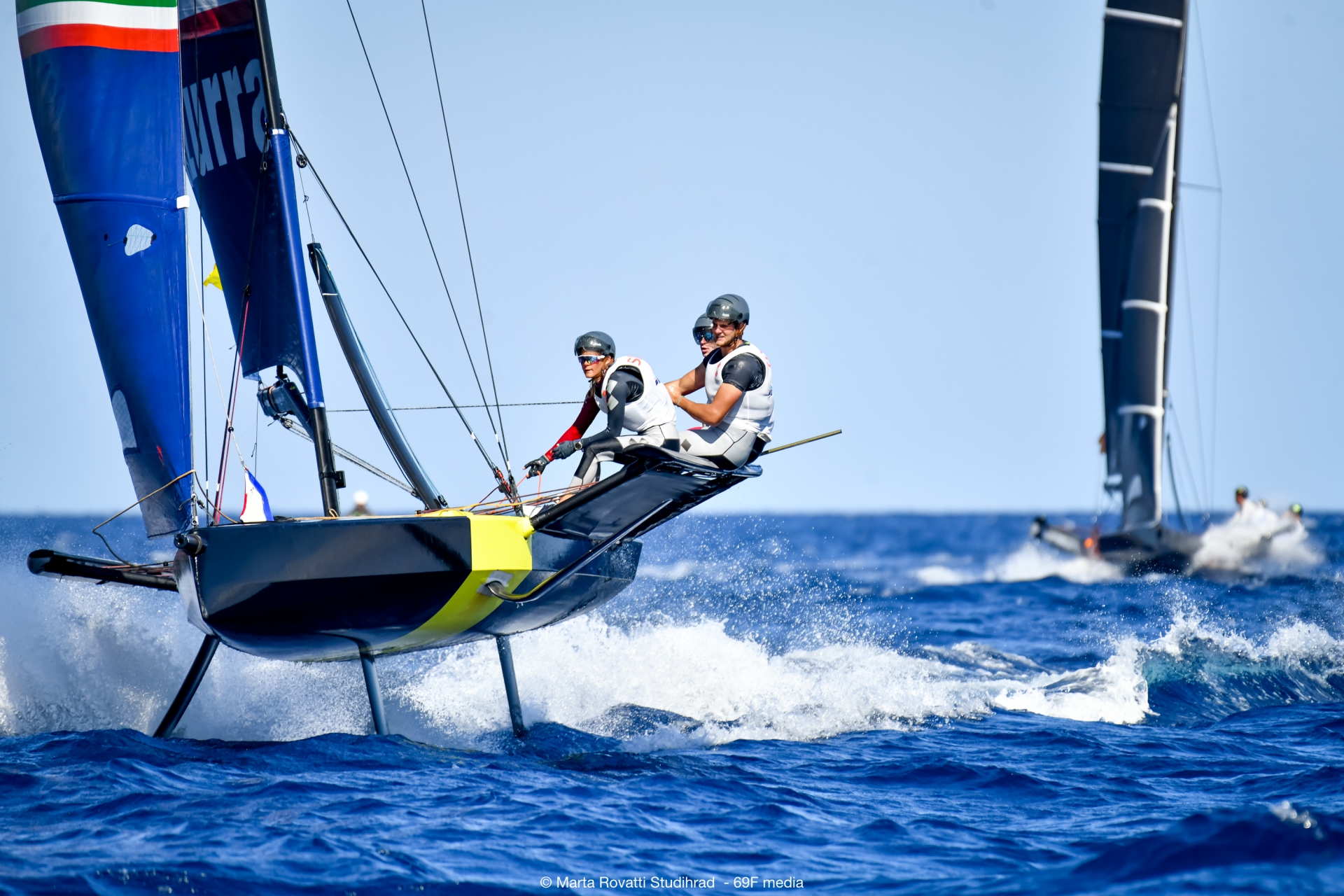 Young Azzurra ready for final leg of Youth Foiling Gold Cup
YCCS team to compete in Cagliari from 21 October to 3 November
Porto Cervo, 20 October 2021. From tomorrow, 21 October, Young Azzurra will take part in the final leg of the Youth Foiling Gold Cup, an event created as an alternative to the Youth America's Cup, where young sailors under 25 years of age compete aboard Persico 69F one-design boats.
The YCCS team, which boasts four victories in various legs of this year's Grand Prix Persico 69F Cup, began training in the waters off Poetto beach in Cagliari, Sardinia, on 18 October. A new crew configuration on board, implemented by coach Gabriele Bruni, sees Ettore Botticini at the helm with Federico Colaninno on the mainsail, while Francesca Bergamo and Erica Ratti alternate in the role of flight controller.
Young Azzurra will take this new set-up to face Dutch Sail team, winner of the previous legs of the YFGC, and Team France, who placed second in the last event in Limone sul Garda. Young Azzurra, the only team representing Italy in the competition, will also be up against: Okalys Youth Project, Katana Sailing Team, Eta Sailing Team, Equal Sailing, Youth Europe Sails and Youth Team Argentina.
The schedule for the Youth Foiling Gold Cup - Act 3 will be split into a first qualifying phase (21-25 October) followed by knockouts (26-28 October) and the final stage (29-31 October). At the end of the leg, the finals for the entire circuit will take place from 1st to 3rd November.
Ettore Botticini, skipper of Young Azzurra: "We have reached the end of the season, over the course of 2021 we have tried out several changes to the way we sail the boat, and we feel we have improved a lot. In this last trip we will have the chance to compete against the Dutch team again, and we'll see if we have managed to bridge the gap in performance. The final event of the Youth Foiling Gold Cup will last almost 20 days, we will have to be smart about conserving the crew's energy but, at the same time, we are ready to give our utmost in every minute of sailing. As always, the starts will be the key to the quadrilateral reaching start style of races used in the Persico 69F circuit."
YCCS Commodore, Michael Illbruck: "We are happy with the progress that Young Azzurra is making, and another long and intense event is coming up for the team. The aim is obviously to achieve a podium finish, but we believe that developing the capacity to react, consolidating that competitive spirit at key challenging moments, is even more important. Fair winds to the young Azzurra team!"
All updates will be posted on Young Azzurra's official social channels on Facebook and Instagram.
For more information, press releases, photos, videos, or to schedule interviews with YCCS management or members of the Young Azzurra team please contact the YCCS press office.
Contacts
YCCS Press Office
Marialisa Panu/Giuliano Luzzatto
Tel. +39 345 7938513 - +39 348 5966160