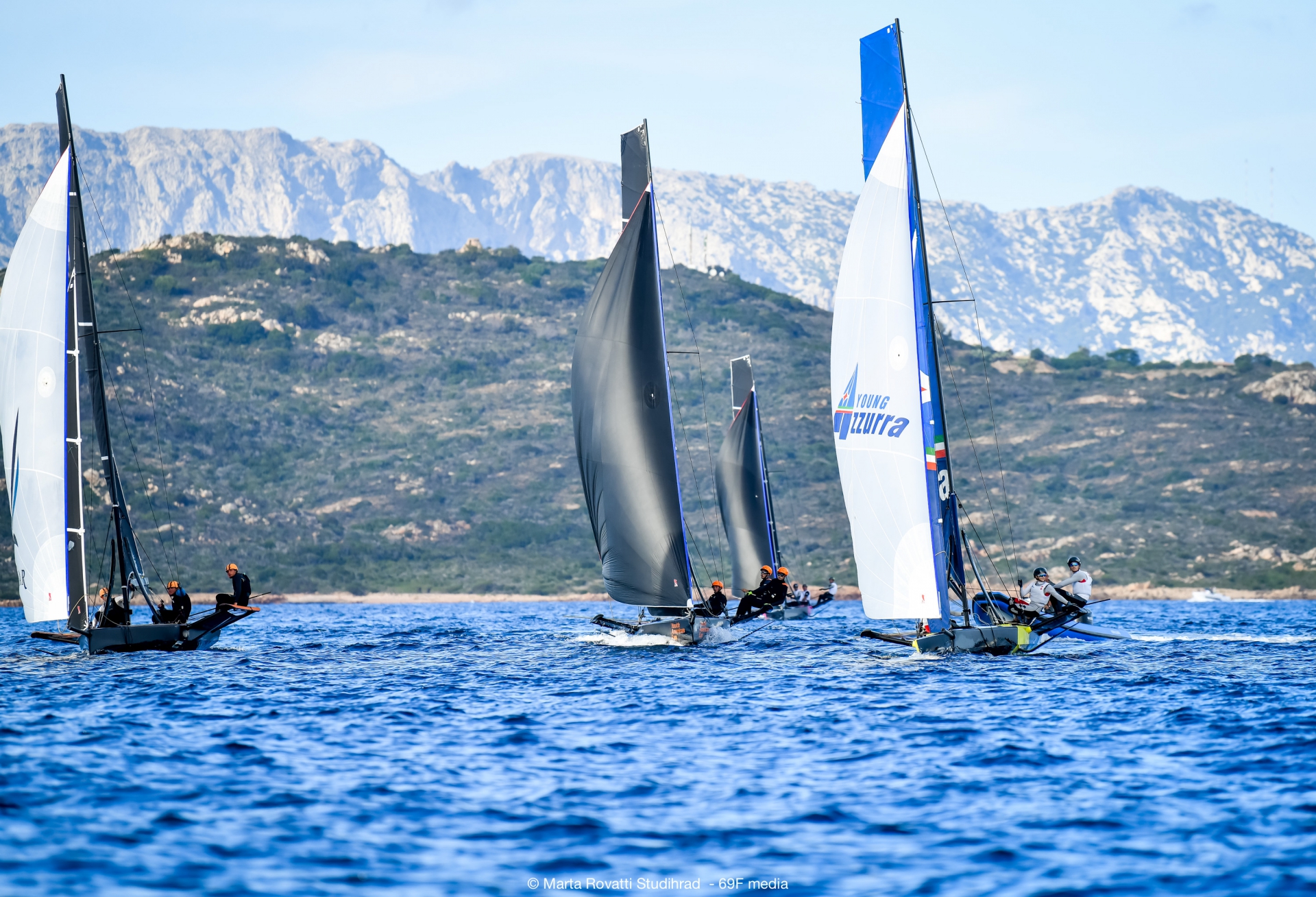 Young Azzurra leads provisional overall classification in Grand Prix 4.1 Persico 69F Cup
Puntaldia (San Teodoro-Olbia), 2 October 2021. The second day of the final Grand Prix of the Persico 69F Cup brought the first day of racing for Young Azzurra and the eight other teams participating in the event. After being unable to get the competition underway yesterday due to very light winds, the first two races were held today. Young Azzurra claimed a victory and a second place finish and currently leads the provisional overall classification.
The day was once again characterised by light airs, and after the midday briefing the crews waited ashore until around 2.30 p.m., when a call for immediate dock out was given. The first starting signal on the waters off the Marina of Puntaldia was then sounded at approximately 4 p.m. Two races were completed today with a light wind blowing at 5 to 7 knots.
The Young Azzurra crew took to the water with Ettore Botticini at the helm, Francesca Bergamo on the mainsail and Erica Ratti in the role of flight controller. This configuration meant that the team was lighter on board and faster in the race, in addition the two girls had the opportunity to put to the test the lessons learnt on the bow during the training days before the event.
In the first race, after a less than perfect start, Young Azzurra regained ground thanks to a strategic choice, rounding the first mark in the lead and crossing the finish line in first place ahead of Okalys Youth Project and Balthasar in second and third respectively. The second race saw Roberto Lacorte's FlyingNikka 47 take the win while Young Azzurra finished in second place ahead of Chinaone Ningbo. Thanks to today's results, Young Azzurra sits at the top of the provisional overall classification, followed by the Okalys Youth Project and Chinaone Ningbo teams.
Gabriele Bruni, coach of Young Azzurra: "The configuration we tried out worked, the crew weight was lighter than the others and the boat had a bit more bite. Lately we have been training the girls at the bow, in the role of flight controller. A significant change for our crew, but the response today was positive. We hope there'll also be more breeze tomorrow."
Tomorrow, 3 October, will be the final day of the Grand Prix 4.1, while the final of the Youth Foiling Gold Cup will take place in Cagliari from 21 October.
Contatti
Ufficio Stampa YCCS
Marialisa Panu/Giuliano Luzzatto
Tel. +39 345 7938513 - +39 348 5966160