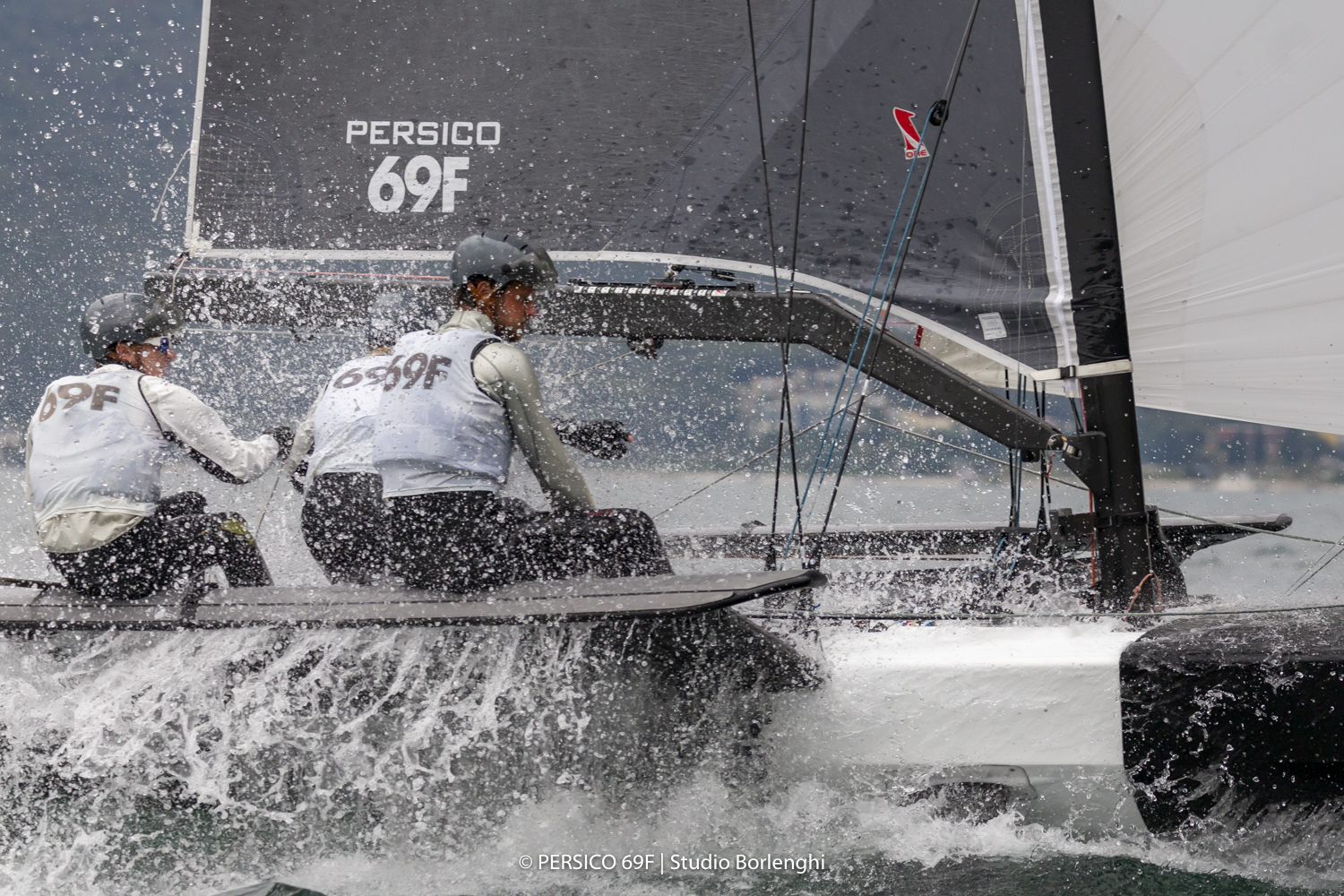 Young Azzurra takes second place at Grand Prix 3 Persico 69F Cup
Malcesine (VR), Lake Garda, Italy. 3 October 2020. The Persico 69F Cup concluded today with Young Azzurra claiming the second step on the podium behind Flyingnikka 47.
A total of 10 races were completed over the course of the three-day event, which got underway on 1st October. An intense first day saw seven races held, while conditions on the second day brought racing to a forced stop. Today, after a morning of unstable weather, the fleet took to the water at 1:30 p.m. to kick off the day's racing in a breeze fluctuating between 7 and 11 knots. Young Azzurra notched up a fifth, a first and a third place today to finish in second place overall in the general classification.
The team composed of Ettore Botticini (skipper), Federico Colaninno (flight controller), Francesca Bergamo and Erika Ratti, has trained extensively on Lake Garda and towards the end of October will move to Porto Cervo in view of the Grand Prix 4 Persico 69F taking place there in November.
"It's been a difficult few days, which led us to push hard in the starts, always pushing a little more given our position in the ranking. In the end we were unlucky, we paid for some tactical choices and were affected by the unstable weather conditions. We're looking forward to moving to Porto Cervo to start sailing on the sea, where the characteristics of the water and the length of the waves will make some manoeuvres unsuitable. We will have to adapt to marine conditions." declared skipper Ettore Botticini.
"We are satisfied with Young Azzurra's performance, there is always something to be learned in order to improve. We look forward to seeing the YCCS team and the whole Persico 69F fleet in Porto Cervo in November. The Grand Prix 4 will be the first foiling event held in our waters." commented YCCS Commodore, Michael Illbruck.
FINAL RESULTS

FlyingNikka 47 – 47.5 pts
Young Azzurra – 41.5 pts
Fantastica 2 - 38 pts
FlyingNikka 74 - 36 pts
SV Marmolada - 14.5 pts
For more information and interview requests for YCCS representatives or the Young Azzurra skipper/flight controller, contact the YCCS Press Office.
Contacts
YCCS Press Office

Marialisa Panu/Giuliano Luzzatto
Tel. +39 0789 902223 - +39 348 5966160
pressoffice@yccs.it