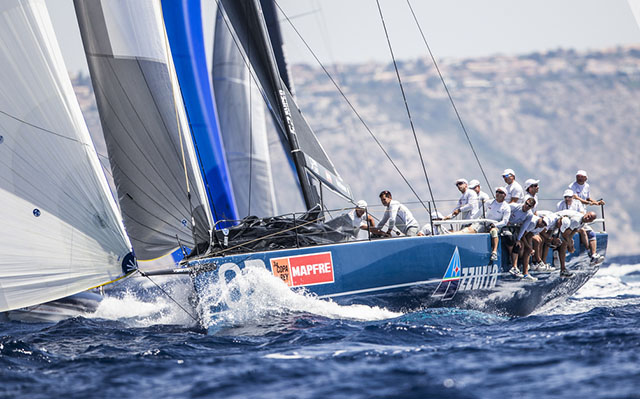 AZZURRA MAINTAINS LEAD AT THE COPA DEL REY
Palma de Majorca August 5, 2015
Azzurra hangs on to her lead in the in the provisional results with a fifth place finish in today's coastal race held in the Palma Bay. Bronenosec placed first and Quantum second followed by Alegre.
The fleet of eleven TP52s competing in the 34th edition of the Copa del Rey Mapfre, fourth event in the 52 Super series, had their coastal race today with a course set up in the Palma Bay. Shitfy breezes were from the southwest at 9 to 14 knots. There were many passes and changes of position because of wind shifts and boats covering others in a competitive and well-matched fleet.
Azzurra got a good start in the middle of the starting line in clean air but soon got stuck in a wind hole while the rookie, Spookie, took the lead thanks to an unexpected puff on the right. By using excellent tactics along the long upwind leg of about 3.5 nm, Azzurra recovered the gap and attacked with a gybe set. Unfortunately, there was no offset mark and Azzurra found herself crossing paths with two other boats that were heading upwind on starboard tack. Azzurra got a penalty, recovered quickly, but couldn't capture the lead.
Bronenosec began to gain positions and placed first in front of Quantum followed in rapid succession by Platoon, Spookie, Azzurra and Alegre who were all changing positions throughout the race.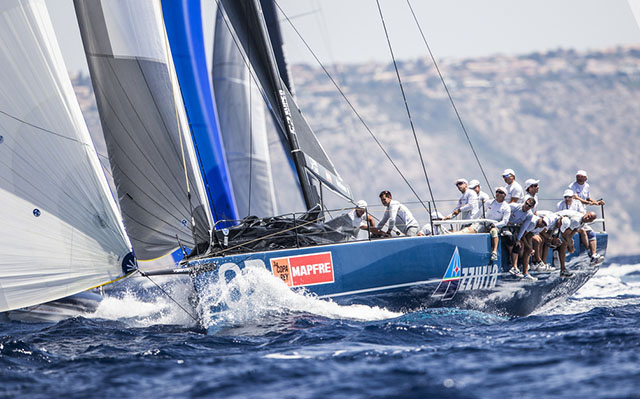 Guillermo Parada, Azzurra's skipper: "It was one of those races where we were in the wrong position at the beginning and it's hard to move forward. We got a penalty in the first round but we were able to recover quickly. We got a couple of opportunities but were unable to cash in on them. We were between fourth and sixth place the whole race and ended up fifth which isn't bad but nothing special. At least we saved the day and are still in the lead with the same advantage as yesterday. So another day down and we're still hanging on to our lead and that's good."
Tactician Vasco Vascotto: "After having sailed well yesterday, today we were a little bit off and with a fleet at this level you pay dearly for the smallest of errors. After a good start we got stuck in a wind hole and we never really got out of it. When we tried a gybe set at the upwind mark we got a penalty so I guess we should consider our fifth place overall as not too bad. We're still in the lead and two points ahead, the same as we were yesterday."
Giovanni Cassinari, Mainsail trimmer: "It was a tough race right from start to finish. Unfortunately, we missed a couple of chances to get ahead after we had done some good recoveries, so we can't complain about placing fifth."
Racing with commentary in English can be followed live via Virtual Eye on our website www.azzurra.it while updates straight from the course can be found on our Facebook page (many thanks to our 10,000 followers!) and Twitter account. Tomorrow racing is scheduled to start at 1:00 PM in breezes predicted to be like today's.
52 Super Series at 34th Copa del Rey Mapfre, Palma de Mallorca
1 Azzurra, ITA (Pablo/Alberto Roemmers ARG) (1,1,5) 7pts
2 Quantum Racing, USA (Doug DeVos USA) (3,4,2) 9pts
3 Alegre, GBR (Andres Soriano USA) (2,2,6) 10pts
4 Platoon, GER (Harm Müller-Spreer GER) (6,3,3) 12pts
5 Bronenosec, RUS (Vladimir Liubomirov RUS) (10,5,1) 16pts
6 Sled, USA (Takashi Okura JPN) (5,7,8) 20pts
7 Spookie, USA (Steve Benjamin USA) (7,10,4) 21pts
8 Xio/Hurakan, ITA (Marco Serafini ITA) (9,8,7) 24pts
9 Provezza, TUR (Ergin Imre TUR) (4,11,10) 25pts
10 Gladiator, GBR (Tony Langley GBR) (11,6,9) 26pts
11 Paprec FRA (Jean-Luc Petithuguenin FRA) (8,9,11) 28pts