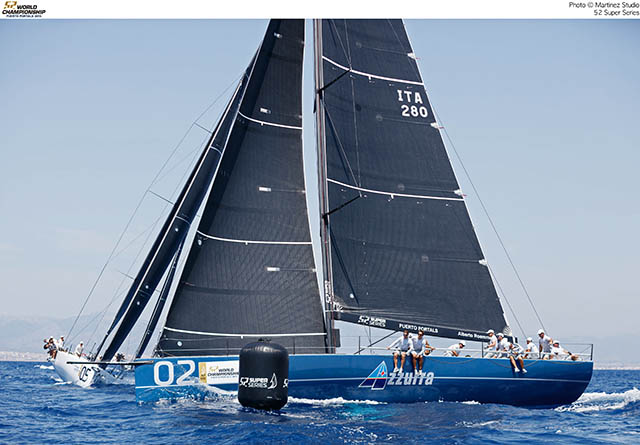 AZZURRA IS SET TO START WORLD CHAMPIONSHIP AS 52 SUPER SERIES LEADER
Puerto Portals, Majorca July 13, 2015
Azzurra is leading in the provisional ranking and is at the head of the fleet of twelve boats set to start off the third event in the 52 Super Series, the 52 World Championship, where the most technical and competitive professional sailing Class races.
Tomorrow will be the first day of racing in the third event of the 52 Super Series, the 52 World Championship, held at Puerto Portals in Majorca. Twelve boats will be racing from tomorrow the 14th to Saturday the 18th in this third event of the 52 Super Series. Azzurra is currently the leader with nine points advantage over the second placed Russian boat Bronenosec whose team includes many top Italian sailors. Sled, currently ranked third, is twelve points behind Azzurra while Azzurra's advantage over Quantum is currently seventeen points.
Azzurra's excellent performance in the previous event, the Settimana delle Bocche held in Porto Cervo, Sardinia, will not allow her to rest on her laurels: the teams are more determined than ever especially Ran, back expressly for this event, and Azzurra's long-time rival and defending champion Quantum, with Ed Baird back at the helm. Phoenix, second runner up last season, will also be back for this event after having dismasted in pre-season trials, Checco Bruni tactician, formerly on Azzurra's team, will make this Brazilian boat an even tougher competitor. But nothing can be taken for granted in a field that includes boats like Alegre, Bronenosec, Platoon, Provezza and Sled, and where many potential winners ready to run with the leader's crown.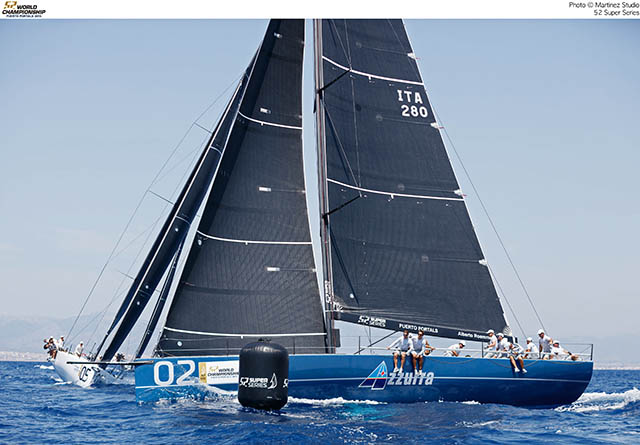 Guillermo Parada, Azzurra's skipper had these words on the eve of racing: "I'm very happy to get back to racing after the results we got in Porto Cervo and happy to see my friends again both aboard Azzurra and on other boats. Let's hope that we can keep up the positive trend and consolidate our leadership in the circuit with a good World Championship. It's nice to be back here in Puerto Portals after all these years."
Tactician Vasco Vascotto is set to start the upcoming event with the experience of a sailor who has won 24 titles not the least of which the ORCi World Championship held just a few days ago in Barcelona where he sailed aboard Enfant Terrible. "I'm happy to be back in Portals with Azzurra and her team. I have fond memories of this place, especially of the year 2008 when I was racing in the Breitling regattas on Bribon with King Juan Carlos of Spain, a real sailor and a true sportsman, at the helm. We know we have a fast boat but the real difference is in our teamwork and in our tactical choices. Fractions of seconds can become advantages or disadvantages, we'll have to wait and see. But we will be giving it our all as always."
The weather forecast for tomorrow calls for light air, with thermal breezes no stronger than twelve knots. Racing will start tomorrow at 1:00 PM and will see two windward/leeward races. Racing with commentary in English can be followed live via Virtual Eye on our website www.azzurra.it while updates straight from the course can be found on our Facebook page and Twitter account.
Teams racing at the 52 World Championship, Puerto Portals:
Alegre GBR (Andy Soriano GBR)
Azzurra ITA (Alberto and Pablo Roemmers ARG)
Bronenosec RUS (Vladimir Liubomirov RUS)
Gladiator GBR (Tony Langley GBR)
Rán Racing SWE (Niklas Zennström SWE)
Paprec FRA (Jean Luc Petithuguenin FRA)
Phoenix BRA (Eduardo De Souza Ramos BRA)
Provezza TUR (Ergin Imre TUR)
Platoon GER (Harm Müller-Spreer GER)
Quantum Racing USA (Doug DeVos USA)
Sled USA (Tak Okura USA)
Xio ITA (Marco Serafini)
Contact:
Giuliano Luzzatto
Media Relations
Tel. +39 348 5966160
www.azzurra.it