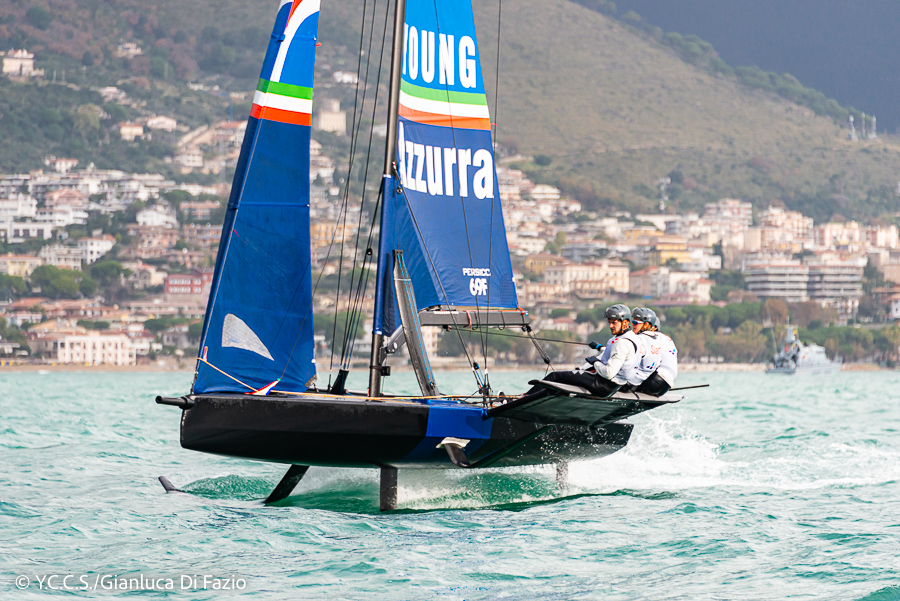 Youth Foiling Gold Cup: Tight rankings after first day of finals
Gaeta, 10 March 2021. With four races completed on the first day of the finals of the Youth Foiling Gold Cup, scores are looking incredibly close with only two points separating the second to fifth classified teams. Young Azzurra's results in today's races (2-3-4-6) see her currently sitting in fifth position in the provisional overall classification.
It was a long morning of waiting for the six teams participating in the Youth Foiling Gold Cup, but in the end the breeze filled in and in the early afternoon racing got underway with a north-westerly breeze of 10/12 knots that would later drop to 4 knots for the last race of the day.
The day got off to an excellent start for Young Azzurra as the team crossed the finish line second behind Team Dutch Sail in the first race. After a decisive recovery in the second race, earned mainly thanks to a perfect upwind beat, Young Azzurra finished in third place. Following a hard-fought battle to the finish line in the third race, with Young Azzurra finishing hot on the heels of the Swiss team who managed to clinch third, the breeze began to drop off. The last race of the day was therefore a complicated one, and a difficult start relegated Young Azzurra to sixth place.
At the conclusion of these first four races, taking the electronic score into consideration, Young Azzurra holds fifth place in the provisional overall standings, just half a point from the Swiss Team in fourth place, and one point from Kingdom Team in third.
Racing will continue tomorrow with light winds forecast.