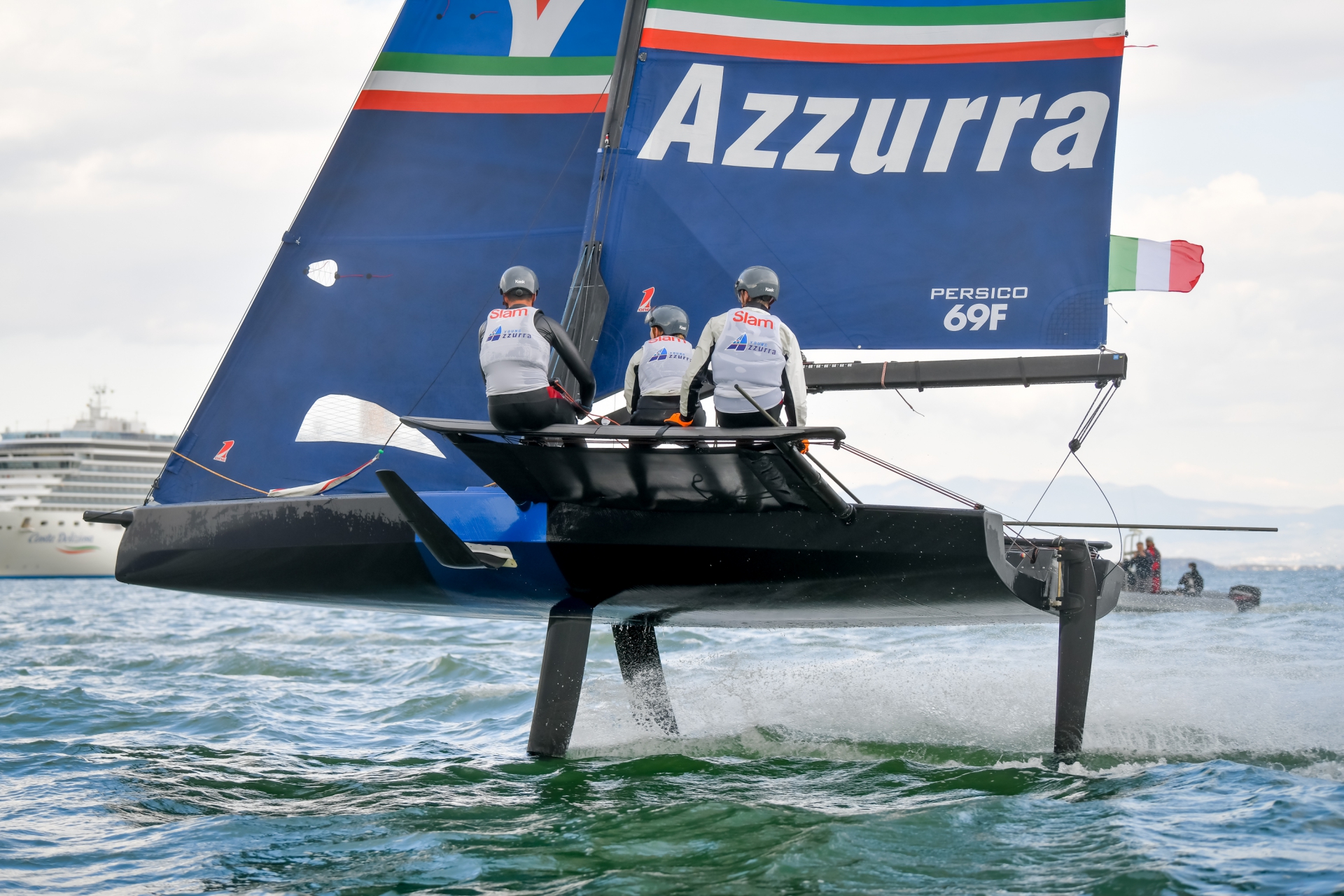 Youth Foiling Gold Cup: positive second day of finals for Young Azzurra
Gaeta, 11 March 2021. Consistency was the key word of the day for Young Azzurra. Notching up five second place finishes and a third, the team climbed the provisional overall standings and now sits in second place ahead of the Agiplast team from Hong Kong and behind the leaders, Team Dutch Sail.
Despite the light air forecast, Gaeta offered up ideal weather conditions for the Persico 69F foilers, with a westerly breeze varying between 10 and 15 knots. From 2.30 p.m. until around 5 p.m., the six teams competing in the finals completed six races to reach the daily maximum.
After a difficult day yesterday, the team reacted well today and despite finding themselves at the bottom of the fleet at times, always managed a good recovery. Young Azzurra took second place in the first race without any apparent drama. In the second, however, the crew rounded the first mark on the course in last place, but thanks to a perfect lay line managed to recoup five positions, putting ground between themselves and the rest of the fleet. Damage to a halyard on the mainsail halted Young Azzurra's comeback however, as she was not able to complete the race; following a request for redress the team was awarded third place. After a perfect start to the third race of the day, Young Azzurra triumphed in a battle with the Agiplast team on the finish line to close in second place. The YCCS team continued to put in highly consistent performances over the remaining three races, finishing in second place each time.
With the addition of the electronic score and points awarded for fair play, Young Azzurra is currently in second position in the provisional general classification behind the Dutch Sail Team in first place, and 5.5 points clear of the Agiplast team in third place.
Tomorrow, March 12, will be the final day of the Youth Foiling Gold Cup, where a maximum of six more races may be run, with double points on offer for the last race of the event.