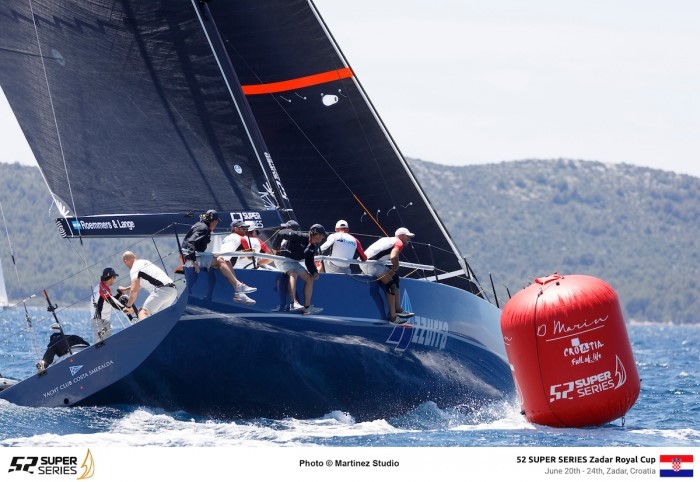 THE ZADAR ROYAL CUP ENDS ON A POSITIVE NOTE FOR AZZURRA
Zadar, Croatia, June 24, 2018. With a third and a very close fourth place finish neck to neck with Phoenix, Azzurra has ended her worst week ever on a positive note. Congratulations go to Luna Rossa who wins the second event in the 2018 52 Super Series.

In both of today's races, run in north-westerly wind that started at 8 knots and built gradually to 15, Azzurra was in second place for a long time, showing that the boat is well tuned and that the team can bounce back from a tough situation. There is still a lot of work to do to get back to top form, but the last three races run in stronger winds have seen Azzurra in the top positions of a fleet that gets more competitive with each event and in incredibly shifty and unpredictable conditions. Even Azzurra's closest rivals, Platoon and Quantum Racing, have had a tough time and neither team got a podium finish: the former placed fourth overall and the latter fifth. The Royal Cup was won by Luna Rossa, with Phoenix in second place and Sled in third.
Today's two races were won by Provezza and Alegre, both teams that hit their stride early and well. Azzurra got good starts in both races and chose the best side of the course staying in second place for the greater part of both of the races. But it was hard to control several adversaries who were attacking at the same time. Azzurra lost a position to Luna Rossa in the first race after a close fight at the second mark. In the second race it was Sled that nicked a position from Azzurra, putting her in third place before she was edged out again by just a fraction of a second by Phoenix. This team, with Ed Baird tactician and Tina Plattner at the helm, was fighting to hang on to their leadership at this event, but lost out overall to Luna Rossa. But they are a team to keep a watchful eye on in the rest of the season.

Skipper Guillermo Parada had these words: "For the final three races at this event we have placed more like we should and more like we are capable of. We are correcting past mistakes and leaving Zadar with a bitter taste in our mouths, but we know we can do better. We have come back from behind before and we'll do it again in Cascais, where conditions will be windier and better for us. We've had a really bad week here for a lot of different reasons from an early lack of boat speed to mistakes on our part. And every time that we change a crew member it takes longer than you might think to get the team back to top form, to understand a different way of doing things. But there's nothing that we can't work out."

Riccardo Bonadeo, Commodore of the Yacht Club Costa Smeralda: "Sports are made of ups and downs and regattas are no exception. To tell the truth, sailing is even less predictable than other sports. This has been a very unusual week and Azzurra has suffered more than we expected. All the more reason for the YCCS to cheer for its team and the boat that flies our burgee. This year's 52 Super Series is going to be tougher than ever, but our team is made up of real champions. They have come through in the past and this difficult moment will be useful for showing the way to improve and recapture the lead."

Tactician Santiago Lange had these words in closing: "We're going to have to work hard to keep getting the results we have gotten in the last few races and to make up the points we need to catch up to our rivals. We made a lot of errors in a very difficult event, but I'm not making excuses: we know how to sail better than this. We had some trouble every race: sometimes it was down to my tactical errors, sometimes it was boat speed, sometimes there were mechanical failures. Overall, we have to work and practice hard."

The next and third event in the 52 Super Series will be in Cascais, Portugal from July 17th to 21st. This third event, the Rolex TP52 World Championship, will also determine who the winner of the 2018 TP52 world championship will be.

52 Super Series Zadar Royal Cup:
1. Luna Rossa (ITA) (Patrizio Bertelli) (1,2,5,3,7,7,2,5) 32 p.
2. Phoenix (RSA) (Hasso/Tina Plattner) (3,7,1,6,4,1,11,3) 36 p.
3. Sled (USA) (Takashi Okura) (6,4,7,1,5,5,6,2) 36 p.
4. Platoon (GER) (Harm Müller-Spreer) (5,5,2,2,8,4,7,10) 43 p.
5. Quantum Racing (USA) (Doug DeVos) (9,6,3,7,3,2,5,7) (2 penalty) 44 p.
6. Alegre (USA/GBR) (Andrés Soriano) (2,9,9,4,1,10,9,1) 45 p.
7. Azzurra (ARG/ITA) (Alberto/Pablo Roemmers) (4,10,10,9,9,3,3,4) 52 p.
8. Provezza (TUR) (Ergin Imre) (11,3,4,5,10,9,1,11) 54 p.
9. Onda (BRA) (Eduardo de Souza Ramos) (10,11,6,8,6,6,4,6) 57 p.
10. Gladiator (GBR) (Tony Langley) (7,1,11,11,2,DNF12,8,8) (2 penalty) 62 p.
11. Paprec Recyclage (FRA) (Jean Luc Petithuguenin) (8,8,8,10,11,8,10,9) 72 p.

52 SUPER SERIES Overall Season Ranking:
1. Quantum Racing (USA) (Doug DeVos) 73 puntos.
2. Sled (USA) (Takashi Okura) 77 p.
3. Platoon (GER) (Harm Müller-Spreer) 77 p.
4. Luna Rossa (ITA) (Patrizio Bertelli) 81 p.
5. Phoenix (RSA) (Hasso/Tina Plattner) 91 puntos.
6. Alegre (USA/GBR) (Andrés Soriano) 96 p.
7. Azzurra (ARG/ITA) (Alberto/Pablo Roemmers) 98 p.
8. Onda (BRA) (Eduardo de Souza Ramos) 103 p.
9. Provezza (TUR) (Ergin Imre) 110 p.
10. Gladiator (GBR) (Tony Langley) 128 p.
11. Paprec Recyclage (FRA) (Jean Luc Petithuguenin) 136 p.

52 SUPER SERIES 2018

Sibenik 52 SUPER SERIES Sailing Week
May 23rd - 27th, Sibenik, Croatia

52 SUPER SERIES Zadar Royal Cup
June 20th - 24th, Zadar, Croatia

ROLEX TP52 World Championship Cascais 2018
July 17th - 21st, Cascais, Portugal

Puerto Portals 52 SUPER SERIES Sailing Week
August 21st - 25th, Mallorca, Spain

52 SUPER SERIES Valencia Sailing Week
September 18th - 22nd, Valencia, Spain

------------------------------------------------
AZZURRA
Pablo and Alberto Roemmers - Owners
Guillermo Parada - Skipper, Helm
Santiago Lange - Tactician
Bruno Zirilli - Navigator
Giovanni Cassinari - Mainsail
Mariano Caputo - Bowman
Juan Pablo Marcos - Midbow
David Vera - Pitman
Grant Loretz- Trimmer
Ciccio Celon - Trimmer
Mariano Parada - Trimmer
Gabriel Marino - Grinder
Alejandro Colla – Grinder
Nicola Pilastro - Grinder
Pedro Rossi- Boat Captain
Coach: Guillermo Baquerizas
Coach: Marco Capitani

Contact:
Giuliano Luzzatto
Media Relations
Tel. +39 348 5966160
pressoffice@azzurra.it
www.azzurra.it