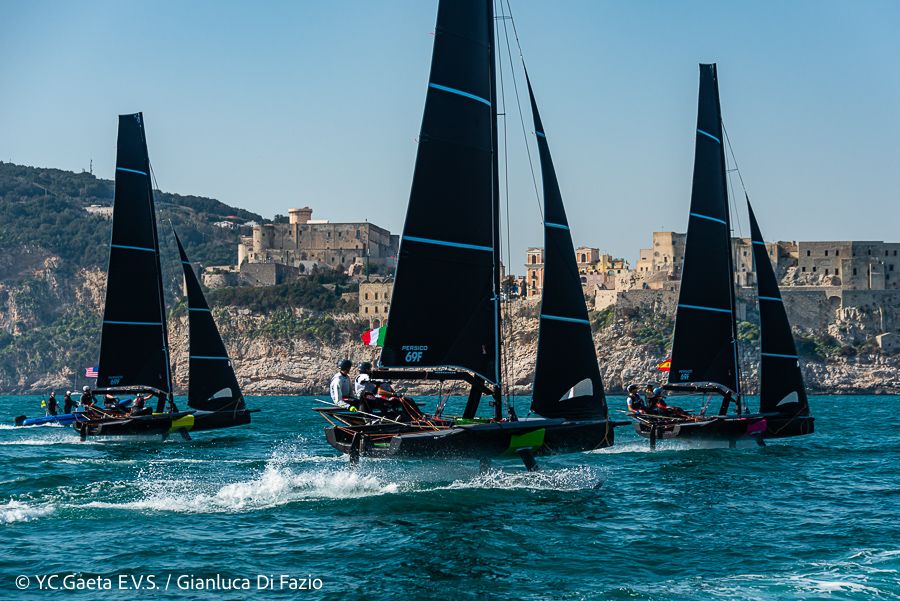 Day one of Youth Foiling Gold Cup
With two third places and a win, Young Azzurra sits third in the provisional overall standings
Gaeta, 3 March 2021. The qualifying phase of the Youth Foiling Gold Cup got underway today and will continue through 8 March. After the first day of racing, Young Azzurra sits in third place in the provisional general classification with a 3-3-1 score line.
After around two hours of waiting on the water for the breeze to fill in, the first starting signal was sounded at around 3.30 p.m. The fleet of Persico 69F boats then took flight, with all eight participating teams managing to complete 3 races each in a south-westerly breeze of 6 to 8 knots.
Young Azzurra crossed the finish line third in the first and second races of the day before claiming victory in the third and final race. After two cautious starts, in the third race the YCCS team moved up a gear, taking the lead from the very beginning. Young Azzurra maintained control of the fleet for the duration of the race, crossing the finish line with a healthy distance between themselves and the Americans of the Southern Yacht Club New Orleans in second.
Today's results leave Young Azzurra in third place overall, just one point behind the Agiplast Team from Hong Kong and two points away from Team Dutch Sail, who currently top the rankings.
The top team at the end of the first three days of racing will qualify directly for the final. The remaining teams will compete in two days of knockouts, except for the team sitting in second place after the first three race days, which will take part only in the second day of knockouts. The teams with the lowest scores in the knockouts will not make it to the final phase, with only six teams taking part in the finals from 10 to 12 March.
Racing in the Youth Foiling Gold Cup will continue tomorrow morning with light winds forecast.
Provisional overall standings
1st place: 16 pt, KNZRV Muiden & KRZV De Maas - Team Dutch Sail - NED
2nd place: 15, Royal Hong Kong Yacht Club - Team Agiplast - HK
3rd place: 14, Yacht Club Costa Smeralda - Young Azzurra - ITA
4th place: 10, Southern Challenge - Southern Yacht Club - USA
5th place: 9, Koninklijke Watersport Vereeniging Loosdrecht (KWVL)- Kingdom team- EUR
6th place: 8, Real Club Nautico de Palma - Team Fortuna - SPA
7th place: 6.5, One Switzerland - Bordée de Tribord - SUI
8th place: 5, Sanderfjord Seilforening - Xela Racing - NOR