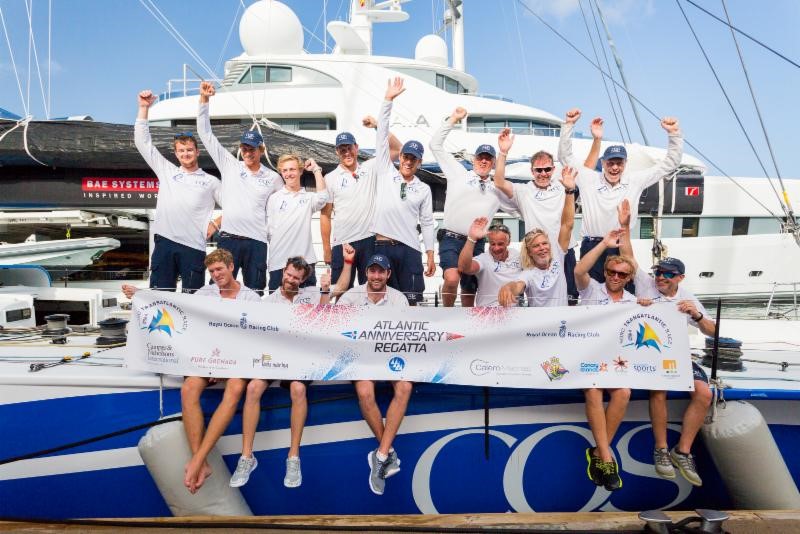 CQS takes Line Honours in the Atlantic Anniversary Regatta
Ludde Ingvall's Australian Maxi CQS finished the Atlantic Anniversary Regatta incorporating the RORC Transatlantic Race on Wednesday 6th December taking Monohull Line Honours in an elapsed time of 11 days 00 hrs 03 mins 08 secs. CQS committed to a southerly route for the 3,000 nautical mile race and despite sustaining sail damage in a vicious 40 knot squall, the canting keel 98ft Maxi led from start to finish. Ingvall is no stranger to taking line honours in prestigious offshore races, twice taking the honour in both the Rolex Fastnet Race and the Rolex Sydney Hobart Yacht Race.
Once dockside at Camper & Nicholsons Port Louis Marina, Ingvall was full of enthusiasm: "We have had a fantastic trip, it is great to be back in the Atlantic and especially nice to be first. We have a young crew on board and it is especially rewarding to give them this chance and 'pass it on'. Just think, we have eight nationalities on one boat and everybody was focused on the same finish line. We worked as a team, looked after each other and it was tough at times."
CQS has now set the bar for the best corrected time under IRC for the RORC Transatlantic Race Trophy. The defending champion, Marten 72 Aragon, skippered by Jochen Bovenkamp and Canadian Southern Wind 96 Sorceress, skippered by Daniel Stump, are likely to be the next yachts to finish. Both yachts are expected to finish the 2017 RORC Transatlantic Race on Friday 8th December.
Race Tracker: http://rorctransatlantic.rorc.org/tracking/2017-fleet-tracking.html
For further information visit the AAR website.