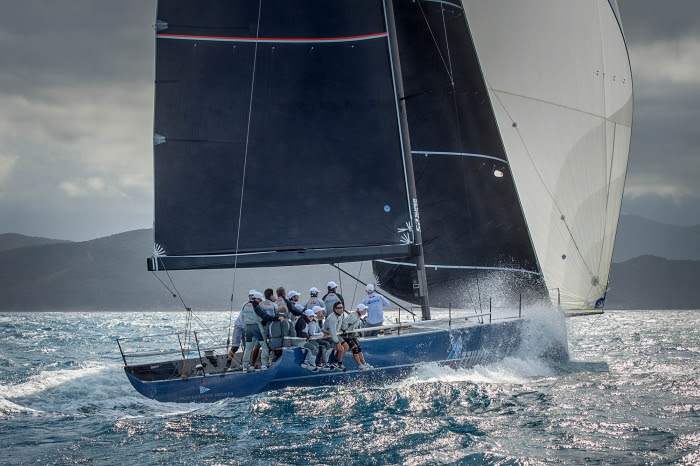 AZZURRA IS READY TO START THE ROLEX TP52 WORLD CHAMPIONSHIP
Cascais, Portugal July 16, 2018. Azzurra, the boat that is the Yacht Club Costa Smeralda's sporting symbol, is at the TP52 World Championship and third event in the 2018 52 Super Series, determined to get some positions back and well aware of how hard to beat her competitors are.

After two days of training in unusually light breezes for Portugal's Atlantic coast, and after a Practice Race in fresh breeze, Azzurra and her team are ready for the Rolex TP52 World Championship, third event in the 52 Super Series 2018.
There are nine teams in the fleet at this event because Gladiator and Paprec, two teams that competed in the events held recently in the Adriatic sea, are not present. But all nine teams attending are determined to capture the lead at this event and to position themselves well in the season's provisional overall results. The next event will be in August at Puerto Portals, Mallorca.

Currently in the lead of the provisional results is the American team aboard Quantum, closely followed by two teams that are tied for points: Platoon and Sled. The first team is defending their position as World Champion and was first runner up at least year's 52 Super Series, while Sled is growing steadily after Ray Davies and Adam Beashel joined her team in the roles of tactician and strategist respectively. Luna Rossa, recent winner of the Zadar Royal Cup, is in fourth place and will want to confirm her position after just two events in the 52 Super Series.

For Azzurra the season has begun on an uneven note: after winning the test event at PalmaVela in early May, her team never managed to hit its stride in the two events held in Croatia at Sibenic and Zadar. New team line up, light and shifty breezes and other technical issues have all contributed to pushing Azzurra back to the middle of the fleet overall, an unexpected result for the defending champions from last year's 52 Super Series.

Cascais has always seen Azzurra perform well, especially since breeze here is usually strong: conditions that Azzurra's team likes. Keeping in mind how competitive her adversaries are and how difficult the season has been so far, Azzurra's team is still confident and determined to perform well at this event.

The week's forecast calls for breeze from the northwest tomorrow with gusts at up to 25 knots; stronger breezes that the Series has seen so far this season and conditions that are better for Azzurra.

Skipper Guillermo Parada has these words: "We are about to start a new World Championship that will offer us the opportunity to change the way things have been going so far this season. We have been working really hard to analyse the errors we have been making and we're confident that we can improve our standing. In the past this event has been good for us and the conditions here suit our sailing style. We'd like to take advantage of the conditions here to improve our position overall and to get back in the game for this year's season."

"A team needs the support of its fans, especially when the going is tough,' said YCCS Commodore Riccardo Bonadeo. "That's how it is for our team Azzurra now, right before the start of the Rolex TP52 World Championship in Cascais. We're routing for our team and for the Roemmers family, we know how hard you're working and we're sure that your efforts will be well rewarded."

The start is scheduled for 1 PM local time tomorrow, 2 PM in Italy. Races can be followed in real time with commentary in English on Virtual Eye and on the sites www.52superseries.com and www.azzurra.it
Entries:
Alegre – Andy Soriano (USA/GBR), 2018 Botin
Azzurra – Alberto and Pablo Roemmers (ARG/ITA), 2018 Botin
Luna Rossa – Patrizio Bertelli (ITA), 2018 Botin
Onda – Eduardo de Souza Ramos (BRA), 2018 Botin
Phoenix – Hasso/Tina Plattner (RSA), 2018 Botin
Platoon – Harm Müller-Spreer (GER), 2018 Vrolijk
Provezza – Ergin Imre (TUR), 2018 Vrolijk
Quantum Racing – Racing Doug DeVos (USA), 2018 Botin
Sled – Takashi Okura (USA), 2018 Botin

2018 52 SUPER SERIES Overall Standings After Two Events:
1. Quantum Racing (USA) (Doug DeVos) 73 p.
2. Sled (USA) (Takashi Okura) 77 p.
3. Platoon (GER) (Harm Müller-Spreer) 77 p.
4. Luna Rossa (ITA) (Patrizio Bertelli) 81 p.
5. Phoenix (RSA) (Hasso/Tina Plattner) 91 p.
6. Alegre (USA/GBR) (Andrés Soriano) 96 p.
7. Azzurra (ARG/ITA) (Alberto and Pablo Roemmers) 98 p.
8. Onda (BRA) (Eduardo de Souza Ramos) 103 p.
9. Provezza (TUR) (Ergin Imre) 110 p.
10. Gladiator (GBR) (Tony Langley) 128 p.
11. Paprec Recyclage (FRA) (Jean Luc Petithuguenin) 136 p.

52 SUPER SERIES 2018

Sibenik 52 SUPER SERIES Sailing Week
May 23rd - 27th, Sibenik, Croatia

52 SUPER SERIES Zadar Royal Cup
June 20th - 24th, Zadar, Croatia

ROLEX TP52 World Championship Cascais 2018
July 17th - 21st, Cascais, Portugal

Puerto Portals 52 SUPER SERIES Sailing Week
August 21st - 25th, Mallorca, Spain

52 SUPER SERIES Valencia Sailing Week
September 18th - 22nd, Valencia, Spain

------------------------------------------------
AZZURRA
Pablo and Alberto Roemmers - Owners
Guillermo Parada - Skipper, Helm
Santiago Lange - Tactician
Bruno Zirilli - Navigator
Giovanni Cassinari - Mainsail
Mariano Caputo - Bowman
Juan Pablo Marcos - Midbow
David Vera - Pitman
Grant Loretz- Trimmer
Ciccio Celon - Trimmer
Mariano Parada - Trimmer
Gabriel Marino - Grinder
Alejandro Colla – Grinder
Nicola Pilastro - Grinder
Pedro Rossi- Boat Captain
Coach: Guillermo Baquerizas
Coach: Marco Capitani
Contact:
Giuliano Luzzatto
Media Relations
Tel. +39 348 5966160
pressoffice@azzurra.it
www.azzurra.it