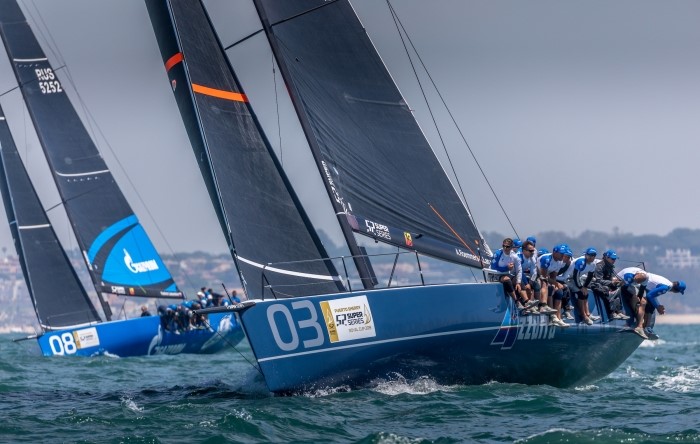 Azzurra ends the Puerto Sherry 52 Super Series Royal Cup in second place
Puerto Sherry, Spain, June 22th, 2019. The boat flying the Yacht Club Costa Smeralda's burgee has concluded the second event in the 2019 52 Super Series in second place by just one point. Provezza has won while Bronenosec is in third place. The next event in the Series will be in Cascais, Portugal, from July 16th to 20th.

This morning Azzurra headed out to sail well aware that she was in a tough fight for the win with Bronenosec – who was in the lead by just one point - and Provezza – who was just three points behind. Not to mention Platoon who was trailing by just seven points. And a tough fight it was with the event's final results decided along the last run. The breeze was from the north-northwest at 9 to 12 knots in the waters off Cadiz and the racing was spectacular with many changes in position and alternating potential winners. The fleet has been very tight all week with just seconds separating the first from the last placed teams. Just as an example: of the eight teams present seven have won at least one race. There is no clear leader and all of the teams are top level.
Azzurra got a perfect start in the first race fighting hard pre-start with Quantum for the pin. But after the first few meters it was clear that Azzurra was a bit slow and soon she was in third place behind Platoon and Provezza who were fighting hard to regain points on Azzurra. Sled also took advantage of Azzurra's slower speed and passed her right before the finish. Azzurra finished fourth but Bronenosec, who finished eighth, saw her lead overall evaporate.

Going in to the event's final race, Azzurra was in the lead with 33 points, followed by Provezza with 34 and Bronenosec and Platoon with 36. Azzurra got another good start on the pin, this time after fighting off Bronenosec. Alegre on the right took the lead at first but Azzurra, on the left, was in control of her most direct adversaries. At least she was until Phoenix, arriving from the right, tacked on her bow making things much more difficult. Azzurra was sixth at the mark and along the run dropped back further because she was on the left of the course when the breeze turned to the right. On the second beat she got a good recovery that brought her up to fifth place just behind Provezza, with Bronenosec in third place. If those positions held to the end Azzurra would have won the event tied for points with Provezza but with two first place finishes against Provezza's one. But things didn't go as hoped: in an attempt to pass Provezza Azzurra's team gybed to the left, leaving an opening for Platoon who came in from the right and stayed in the middle. Azzurra ended the Royal Cup in second place behind Provezza and tied for points with Bronenosec.

In terms of the 2019 season overall, Provezza is currently in the lead with 67 points, followed by Platoon with 69 and Azzurra with 77. The third event in this year's 52 Super Series will be held from July 16th to 20th in Cascais, Portugal.

Riccardo Bonadeo, Commodore of the YCCS: "We really had a chance at winning this event after having been in the lead in the first part of the week then recovering our lead after the second to last race. Too bad that we didn't win the Royal Cup again after having won it in Miami in 2017, but this second place isn't bad at all. On the behalf of the YCCS I want to thank our club members the Roemmers and the team. And of course I want to congratulate the winners!"

Skipper Guillermo Parada: "It was a great week of racing in a fleet that has never been this compact: every day was a fight for the lead. Today we headed out to sail with the right mindset and won both starts. But in the first race our boat speed was a little slow, I'm not really sure why but it was a real shame. So it was all down to the final race where we got the pin again and controlled our rivals until Phoenix tacked on our bow and made life complicated. On the final run we tried to attack Provezza, but they held us off and so we gybed left. Too bad that Platoon came in from the right and we lost a point. These things happen, both of our teams deserved to win but this time around it was their turn. Hopefully next time will be ours."

Santiago Lange, tactician: "It was really cool and tight racing at this event which shows on the final scoreboard: we weren't first by just one point. Unfortunately today in the light air we struggled a little bit and it was very hard to recover positions. We had our chances but couldn't take advantage of them, but we'll keep working and be back in top form at the upcoming event."

Overall standings at the Puerto Sherry 52 SUPER SERIES Royal Cup
1. Provezza (TUR) (Ergin Imre) (1,4,7,7,2,2,3,6,2,4) 38 p.
2. Azzurra (ARG/ITA) (Alberto/Pablo Roemmers) (5,1,2,5,5,1,2,8,4,6) 39 p.
3. Bronenosec (RUS) (Vladimir Liubomirov) (4,3,4,3,1,5,5,3,8,3) 39 p.
4. Platoon (GER) (Harm Müller-Spreer) (3,6,5,1,3,8,7,2,1,1,5) 41 p.
5. Sled (USA) (Takashi Okura) (8,2,3,4,4,4,8,4,3,7) 47 p.
6. Alegre (USA/GBR) (Andrés Soriano) (2,8,6,2,8,6,1,7,7,1) 48 p.
7. Quantum Racing (USA) (Doug DeVos) (7,7,1,6,6,7,4,5,5,5,2) 50 p.
8. Phoenix 11 (RSA) (Tina Plattner) (6,5,8,8,7,3,6,1,6,8) 58 p.

Overall standings in the 2019 52 SUPER SERIES after two events
1. Provezza (TUR) (Ergin Imre) 67 p.
2. Platoon (GER) (Harm Müller-Spreer) 69 p.
3. Azzurra (ARG/ITA) (Alberto/Pablo Roemmers) 77 p.
4. Quantum Racing (USA) (Doug DeVos) 84 p.
5. Bronenosec (RUS) (Vladimir Liubomirov) 86 p.
6. Alegre (USA/GBR) (Andrés Soriano) 95 p.
7. Sled (USA) (Takashi Okura) 101 p.
8. Phoenix 11 (RSA) (Tina Plattner) 123 p.

---------------------------------------------------
52 SUPER SERIES 2019

Menorca 52 SUPER SERIES Sailing Week,
May 21th - 25 th, Menorca, Spain.

Puerto Sherry 52 SUPER SERIES Royal Cup,
June 18th - 22th Cadiz, Spain.

Cascais 52 SUPER SERIES Sailing Week,
July16th - 20th Cascais, Portugal.

Rolex TP52 World Championship Puerto Portals 2019,
August 25th - 29th Mallorca Spain.

Porto Cervo 52 SUPER SERIES Sailing Week,
September 24th - 28rd Sardinia, Italy.

------------------------------------------------
AZZURRA
Pablo and Alberto Roemmers - Owners
Guillermo Parada - Skipper, Helm
Santiago Lange - Tactician
Bruno Zirilli - Navigator
Giovanni Cassinari - Mainsail
Mariano Caputo - Bowman
Juan Pablo Marcos - Midbow
David Vera - Pitman
Grant Loretz- Trimmer
Ciccio Celon - Trimmer
Mariano Parada - Trimmer
Gabriel Marino - Grinder
Alejandro Colla – Grinder
Nicola Pilastro - Grinder
Pedro Rossi- Boat Captain
Coach: Guillermo Baquerizas
Sail performances: Gonzalo Ramos Vertiz

Contact:
Giuliano Luzzatto
Media Relations
Tel. +39 348 5966160
pressoffice@azzurra.it
www.azzurra.it