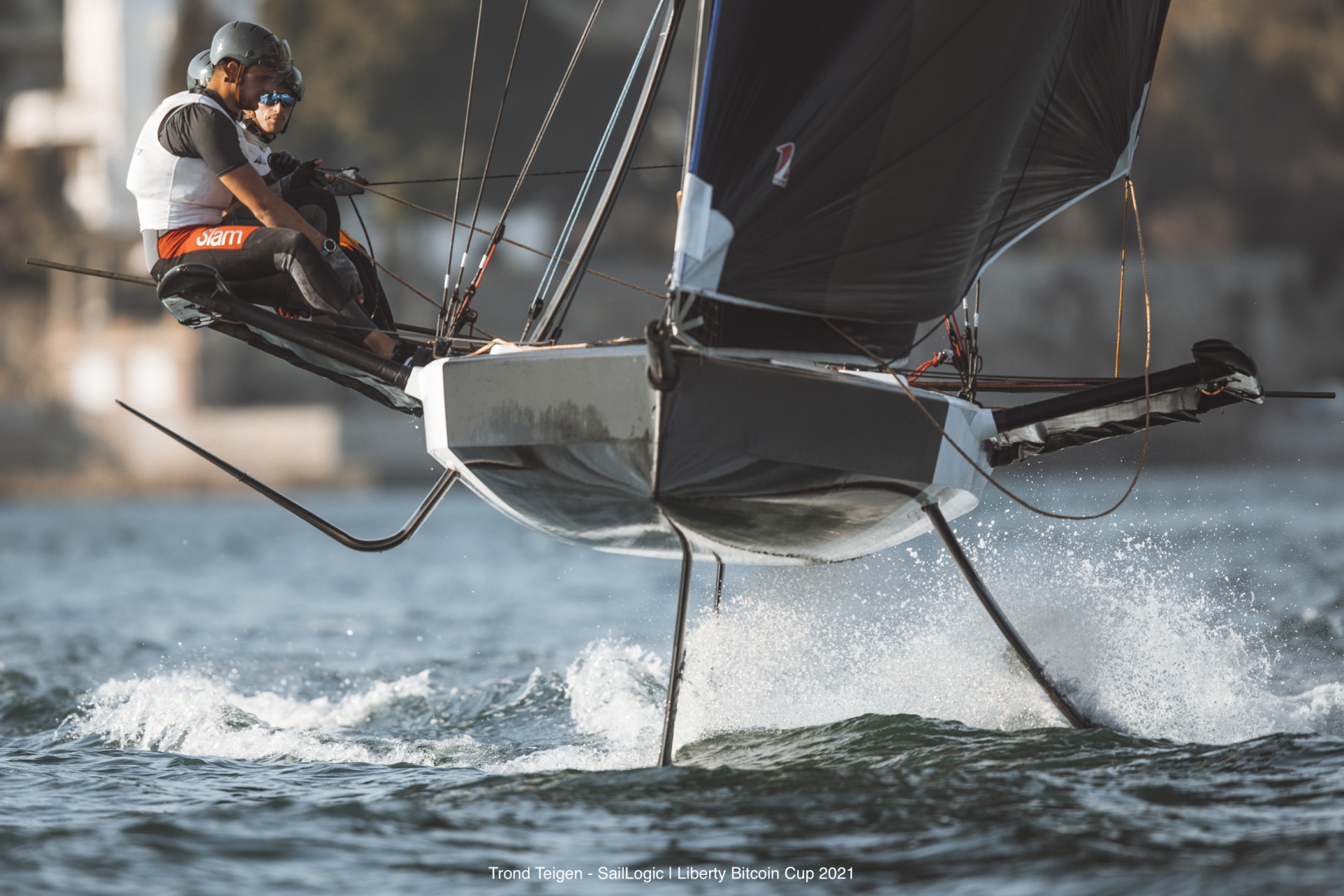 Youth Foiling Gold Cup: Azzurra in second place in the provisional overall classification
Gaeta, 4 March 2021. The eight teams participating in the Youth Foiling Gold Cup enjoyed an intense second day in Gaeta. Young Azzurra completed four races today and racked up three second places and a victory, results which saw the team climb one place in the provisional rankings to claim second place overall. Team Dutch Sail remains in first place with a lead of 4.5 points, while the Agiplast team from Hong Kong sits in third, just one point behind Young Azzurra.
Racing got underway at around 2.30 p.m. today, with a breeze of about 10 knots from the south-west. Young Azzurra's day was characterized by an ongoing battle with the Dutch Sail team, which currently sits at the top of the provisional standings. The duel began immediately in the first race of the day, with Young Azzurra crossing the finish line in second place. In the second race Young Azzurra gave nothing away, and despite a penalty at the start arrived at the finish line first, with the Dutch again hot on their heels. The start of the third race of the day was underwhelming, but a determined YCCS team climbed back metre by metre, managing to join the crews at the head of the fleet. Meanwhile, however, Team Dutch Sail had made a strategic choice that allowed them to make a surprising comeback, climbing from the bottom of the fleet to win the race, just metres ahead of Young Azzurra in second. In the final race of the day Young Azzurra took an early lead, but after rounding the first mark in first place, an incorrect assessment of the lay line forced her into second position behind Team Dutch Sail.
Tomorrow, 5 March, Young Azzurra will complete two more races. The top-ranked team after the first three days of racing will qualify directly for the final. The remaining teams will face two days of knockout races, with the exception of the team sitting in second place after the first three days of racing, which will proceed straight to the second day of knockouts. The teams finishing last in the knockout races will not proceed to the final stages. Six crews will compete in the final of the event from 10 to 12 March.
Overall provisional classification
1st place: 33 pt, KNZRV Muiden & KRZV De Maas - Team Dutch Sail - NED
2nd place: 28.5 pt, Yacht Club Costa Smeralda - Young Azzurra - ITA
3rd place: 27.5 pt, Royal Hong Kong Yacht Club - Team Agiplast - HK
4th place: 21 pt, Koninklijke Watersport Vereeniging Loosdrecht (KWVL)- Kingdom team- EUR
5th place: 18.5 pt, Southern Challenge - Southern Yacht Club - USA
6th place: 12.5 pt, One Switzerland - Bordée de Tribord - SUI
7th place: 12 pt, Real Club Nautico de Palma - Team Fortuna - SPA
8th place: 11 pt, Sanderfjord Seilforening - Xela Racing - NOR