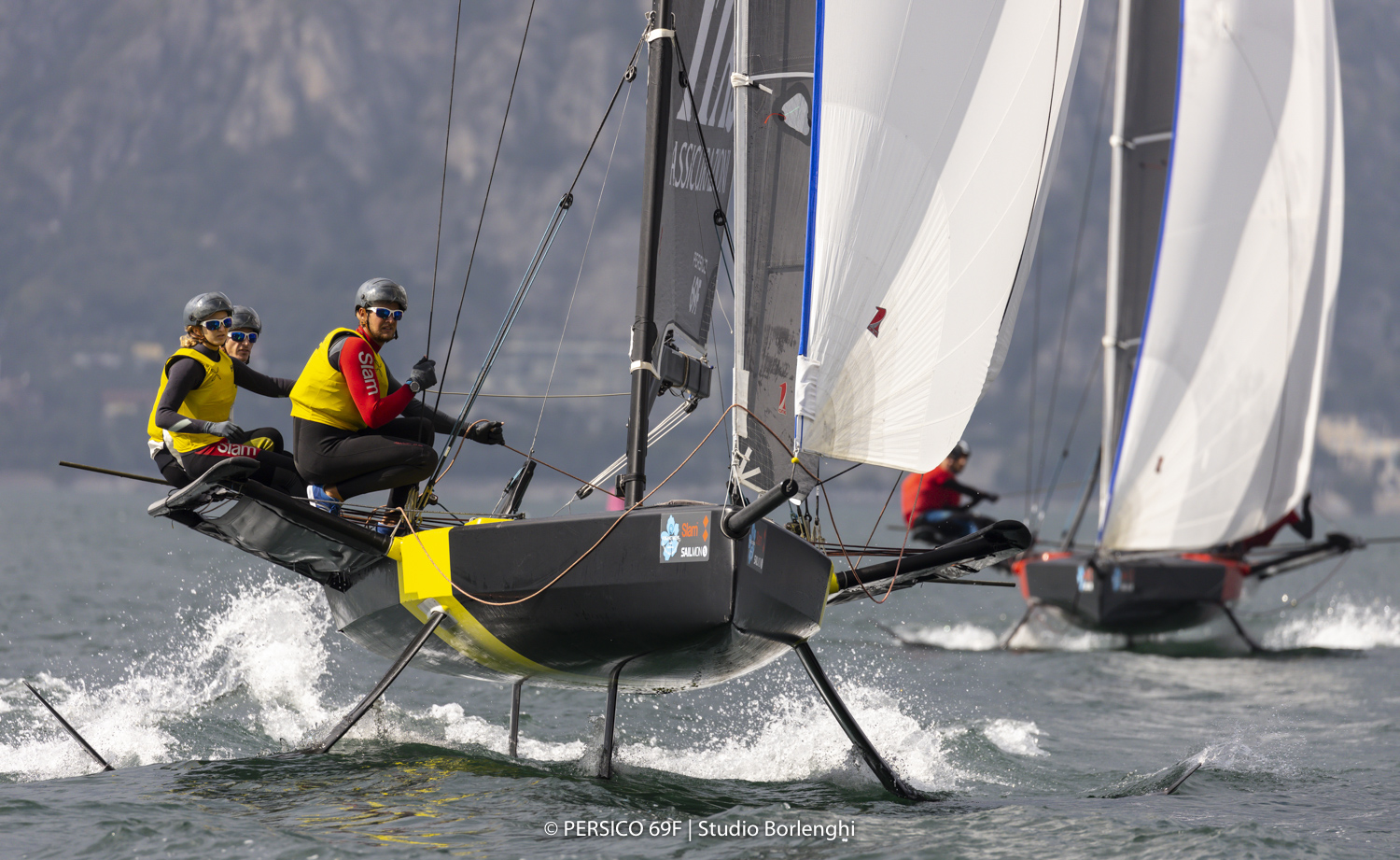 Convincing win for Young Azzurra
Malcesine, Lake Garda, Italy. 24 September 2020. Young Azzurra, the Yacht Club Costa Smeralda's competitive foiling programme, has claimed a convincing victory in the second Grand Prix of the Persico 69F Cup.
The team led by skipper Ettore Botticini will remain in Malcesine, on Lake Garda, for the third Grand Prix of the season, taking place from 28 September to 3 October.
Young Azzurra's victory became a reality yesterday, when the team won four of the eight races held, rounding off their scoreline with three second-place finishes and a third. Racing today, 24 September, was characterised by a very light and unstable breeze which never got above 6-7 knots. In the only race that the Committee managed to complete, Young Azzurra added another clear victory, confirming their supremacy in a class the team debuted in just last month. The team stood out for its clean manoeuvres and a precise tactics. Young Azzurra stretched ahead of the fleet immediately after the start, gaining an increasingly greater delta at each mark rounding on the rectangular course. Joining Young Azzurra on the final podium in Malcesine were FlyingNikka 47 in second, and Team Agiplast of Hong Kong in third place.
"We have reaped the rewards of our recent training." explained skipper Ettore Botticini. "This victory is the confirmation of the great work done with our coach Enrico Zennaro. What we needed was a comparison with the other teams, and we are really pleased with our learning curve."
Racing on board Young Azzurra together with skipper Ettore Botticini was the new Italian Finn champion Federico Colaninno, who has just been officially confirmed as a member of the team - in the role of flight controller. Meanwhile Francesca Bergamo and Erica Ratti, both under observation with a view to joining the team, alternated as mainsail trimmers. This was Francesca's second event with Young Azzurra, and Erica's first experience.
Observations of potential crew members will continue throughout the season, which is scheduled to conclude in Porto Cervo in November.
"The team is brilliant! They did a very solid job. Come from behind wins are not easy! We stay focused and continue to practice and look forward to next week to compete against more teams. Bravo Young Azzura!" commented YCCS Commodore Michael Illbruck, who was present in Malcesine.
FINAL RESULTS

1 - YOUNG AZZURRA - 49 PT
Ettore Botticini, Federico Colaninno, Erica Ratti, Francesca Bergamo

2 - FLYING NIKKA 47 - 35 PT
Roberto Lacorte, Lorenzo Bressani, Enrico Zennaro, Ruggero Tita, Simone Salvà

3 - RHKYC TEAM AGIPLAST - 31 PT
Calum Gregor, Maria Cantero, Nicolai Jacobsen

4 - FLYING NIKKA 74 - 25,5 PT
Alessio Razeto, Lorenzo De Felice, Andrea Fornaro
5 - FP.SAILING - 15,0
Alessandro Caldari, Giacomo Bandini, Lorenzo Franceschini
Contacts
YCCS PRESS OFFICE

Marialisa Panu/Giuliano Luzzatto
Tel. +39 0789 902223 - +39 348 5966160
pressoffice@yccs.it