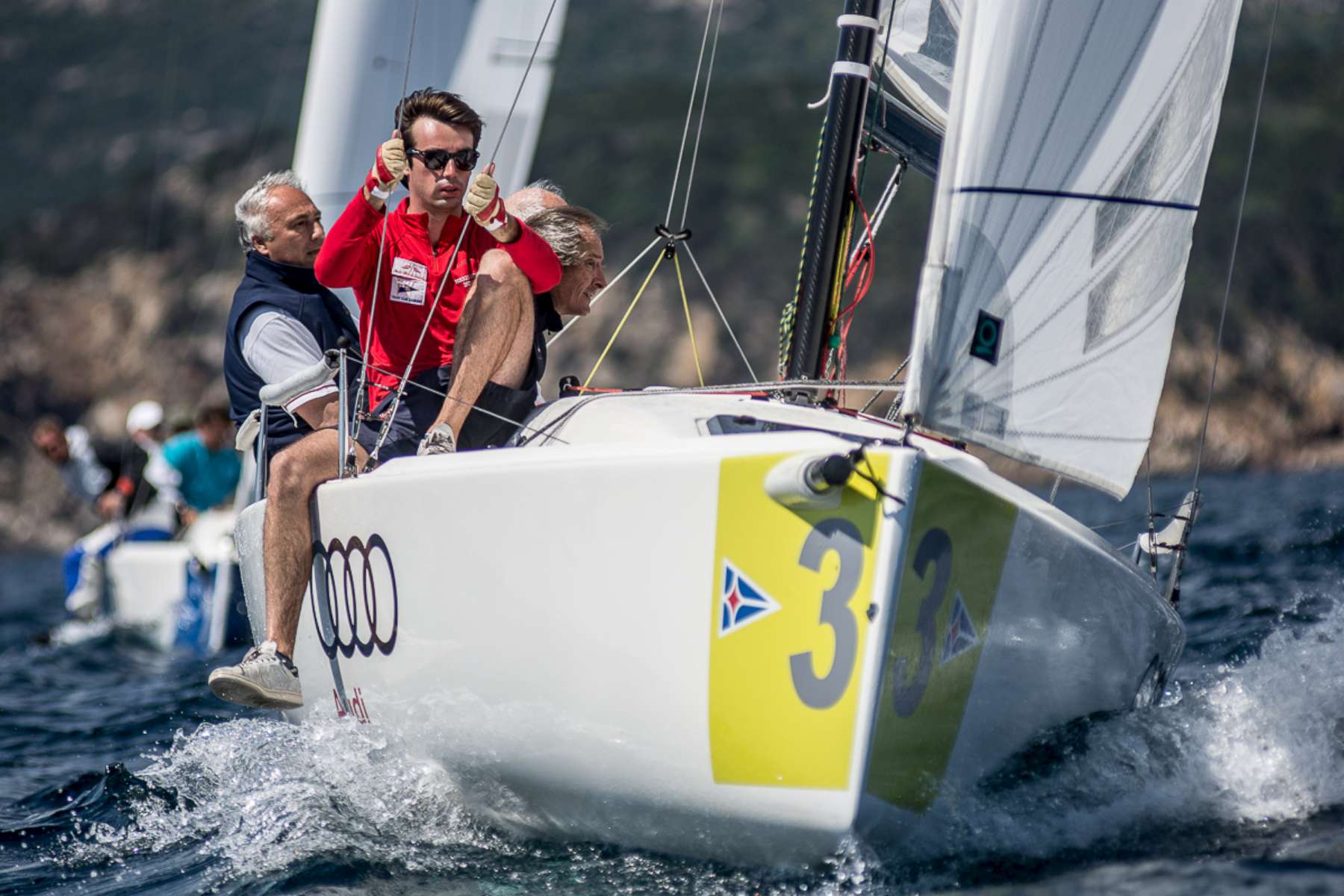 Third consecutive victory for Yacht Club de Monaco at Vela & Golf
Porto Cervo, Italy. 13 May 2018. The Yacht Club de Monaco has won the traditional Vela & Golf event for the third year running and the fifth time in the history of the competition. Yacht Club Punta Ala and Pevero Golf Club follow in second and third place respectively.
The five competing teams did battle over two days: Saturday 12 May on the renowned greens of Pevero Golf Club and today on the regatta course in front of the Yacht Club Costa Smeralda (YCCS). The teams completed three races today aboard the YCCS J/70 fleet, accompanied by a sirocco breeze of 8 to 12 knots.
With a third place in the golfing component and a first place in the sailing competition, the team from Monaco – with crew Adalberto Miani (skipper), Roberto Tamburelli, Julio Cesar Ayllon and Sophie Sandolo – topped the combined classification just one point ahead of Yacht Club Punta Ala in second place, led by Filippo Calandriello with crew members Massimiliano Salvi, Silvia Curto and Sergio Paradiso. Third place went to Pevero Golf Club (skipper Giancarlo Coiana, Marco Desini, Nicola Dettori and Giovanni Matiz) who notched up a first place in the golfing competition and a fifth place on the regatta course. Just one point behind them was the YCCS team, which despite a second place in the sailing contest, took fourth overall ahead of Yacht Club Adriaco.
During the prize giving ceremony the members of the winning team from the Yacht Club de Monaco were awarded the Vela & Golf Trophy as well as a GPS Approach 20 – an instrument that provides information on golf course including the distance from the front, middle and back greens as well as player performance statistics – offered by Official Technical Partner of the event, Garmin Marine.
The YCCS sporting calendar continues with the ninth edition of the Trofeo Challenge Alessandro Boeris Clemen (26 May) and the Audi Sailing Champions League – Porto Cervo (31 May – 3 June).
For further information, photos, results or documents visit the dedicated event section or contact the Press Office.
For further updates on social media follow the hashtag #yccs.
Contacts:
YCCS Press Office
Marialisa Panu/Giuliano Luzzatto
www.yccs.com