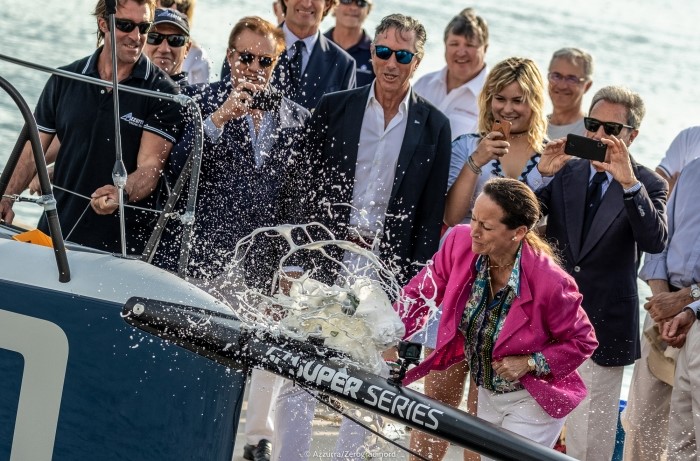 THE NEW TP52 VERSION OF AZZURRA IS BAPTISED ON THE EVE OF THE 52 SUPER SERIES
Šibenik, Croatia. May 22, 2018. The latest TP52 version of Azzurra has been baptised by the Princess Zahra Aga Khan in Šibenik, Croatia where the first event in the 2018 52 Super Series is about to begin.

The bottle broke on Azzurra's bow, meaning that the Princess Zahra Aga Khan has brought good luck to Azzurra and her team.
This newest Azzurra, the fourth TP52 version of this boat, was baptised in Šibenik, Croatia, the day before the first day of racing of the first event in the 2018 52 Super Series, the most competitive monohull circuit. Azzurra, the boat that flies the Yacht Club Costa Smeralda's burgee, is defending champion this year and has won the Series overall three times in the past.

There was a small crowd at the dock in Šibenik along with the Princess Zahra Aga Khan: the Roemmers family, owners of Azzurra, the local authorities, the entire Azzurra team, the Commodore of the Yacht Club Costa Smeralda Riccardo Bonadeo with his wife Sciakè, the Secretary of the YCCS Jan Pachner and Mauro Pelaschier, who helmed a previous version of Azzurra in the America's Cup in the 1980s and today is the Ambassador of the One Ocean Foundation.

Members of rival teams congratulated team Azzurra, as these are all true sportsmen who are all friends on shore after they have finished being foes at sea.

After the baptism there was a cocktail where the One Ocean Foundation was presented. What started as a forum for the sustainability of the world's oceans organised for the YCCS 50th anniversary in 2017 has quickly grown to become an important reality in raising awareness for the protection of the world's waters.

The new Azzurra has been designed by studio Botin Partners and first touched the water in mid March in Valencia, where it was built at the King Marine shipyard under the supervision of project manager Miguel Costa.

Azzurra won her test event, PalmaVela, where she was in close competition with the two teams that she was locking horns in last years Series too: Platoon with tactician John Kostecki and Quantum Racing with Dean Barker at the helm and Terry Hutchinson tactician. The above sailors are competing in the 52 Super Series ahead of their participation in the 36th America's Cup.

Skipper and helmsman Guillermo Parada will be aboard Azzurra again this year with the addition of Olympic sailing legend Santiago Lange as tactician. Parada and Lange are old and close friends and Lange won a gold medal at the Rio Olympics. Lange replaces Vasco Vascotto, the previous tactician aboard TP52 versions of Azzurra, who will now be sailing aboard Luna Rossa, who will be competing in her first race right here in Šibenik.

Riccardo Bonadeo, Commodore of the Yacht Club Costa Smeralda, had these words at the end of the ceremony: "This is an especially happy day. The Princess Zahra has baptised her fourth TP52 version of Azzurra, just like her mother baptised the 12mR versions of Azzurra that competed in the America's Cup in the '80's. And the whole Roemmers family is here and we thank them from the bottoms of our hearts for allowing Azzurra to fly the YCCS burgee in the prestigious 52 Super Series. I'm happy to thank them twice. In fact, the Roemmers family has just announced that they will make a large donation to our One Ocean Foundation for ocean sustainability and will make Azzurra an Ambassador of the cause."

Pablo Roemmers spoke on behalf of his entire family, all of whom were present: "We thank the Princess Zahra for joining us to baptise Azzurra, it is a great honour to have her with us. We are sure she will bring good luck to this boat just as she has for the others before her. Her are also happy that Azzurra will be an Ambassador for the One Ocean Foundation, an initiative whose objectives we share and actively support."

Tomorrow starting at 12 noon the TP52 fleet will be competing in the waters off Dalmatia in winds that are expected to be from medium to medium light intensity. Azzurra won't be the only Italian team racing: on top of Luna Rossa's debut, this event will see the long awaited return of Xio Hurakan, an entirely Italian team with Tommaso Chieffi tactician.

Racing can be followed via Virtual Eye on the website 52superseries.com and on azzurra.it. Azzurra's Facebook and Twitter accounts will have real time updates directly from the regatta course.
Entries for Šibenik 52 Super Series Sailing Week
Alegre – Andy Soriano (USA/GBR), 2018 Botin
Azzurra – Alberto/Pablo Roemmers (ARG/ITA), 2018 Botin
Gladiator – Tony Langley (GBR), 2016 Botin
Luna Rossa – Patrizio Bertelli (ITA), 2018 Botin
Onda – Eduardo de Souza Ramos (BRA), 2018 Botin
Paprec Recyclage – Jean Luc Petithuguenin (FRA), 2015 Vrolijk
Phoenix – Hasso/Tina Plattner (RSA), 2018 Botin
Platoon – Harm Müller-Spreer (GER), 2018 Vrolijk
Provezza – Ergin Imre (TUR), 2018 Vrolijk
Quantum Racing – Racing Doug DeVos (USA), 2018 Botin
Sled – Takashi Okura (USA), 2018 Botin
XIO Hurakan – Marco Serafini (ITA), 2013 Botin

52 SUPER SERIES 2018

Sibenik 52 SUPER SERIES Sailing Week
May 23rd - 27th, Sibenik, Croatia

52 SUPER SERIES Zadar Royal Cup
June 20th - 24th, Zadar, Croatia

ROLEX TP52 World Championship Cascais 2018
July 17th - 21st, Cascais, Portugal

Puerto Portals 52 SUPER SERIES Sailing Week
August 21st - 25th, Mallorca, Spain

52 SUPER SERIES Valencia Sailing Week
September 18th - 22nd, Valencia, Spain

------------------------------------------------
AZZURRA
Pablo and Alberto Roemmers - Owners
Guillermo Parada - Skipper, Helm
Santiago Lange - Tactician
Bruno Zirilli - Navigator
Giovanni Cassinari - Mainsail
Mariano Caputo - Bowman
Juan Pablo Marcos - Midbow
David Vera - Pitman
Grant Loretz- Trimmer
Ciccio Celon - Trimmer
Mariano Parada - Trimmer
Gabriel Marino - Grinder
Alejandro Colla – Grinder
Nicola Pilastro - Grinder
Pedro Rossi- Boat Captain
Coach: Guillermo Baquerizas
Coach: Marco Capitani

Contact:
Giuliano Luzzatto
Media Relations
Tel. +39 348 5966160
pressoffice@azzurra.it
www.azzurra.it