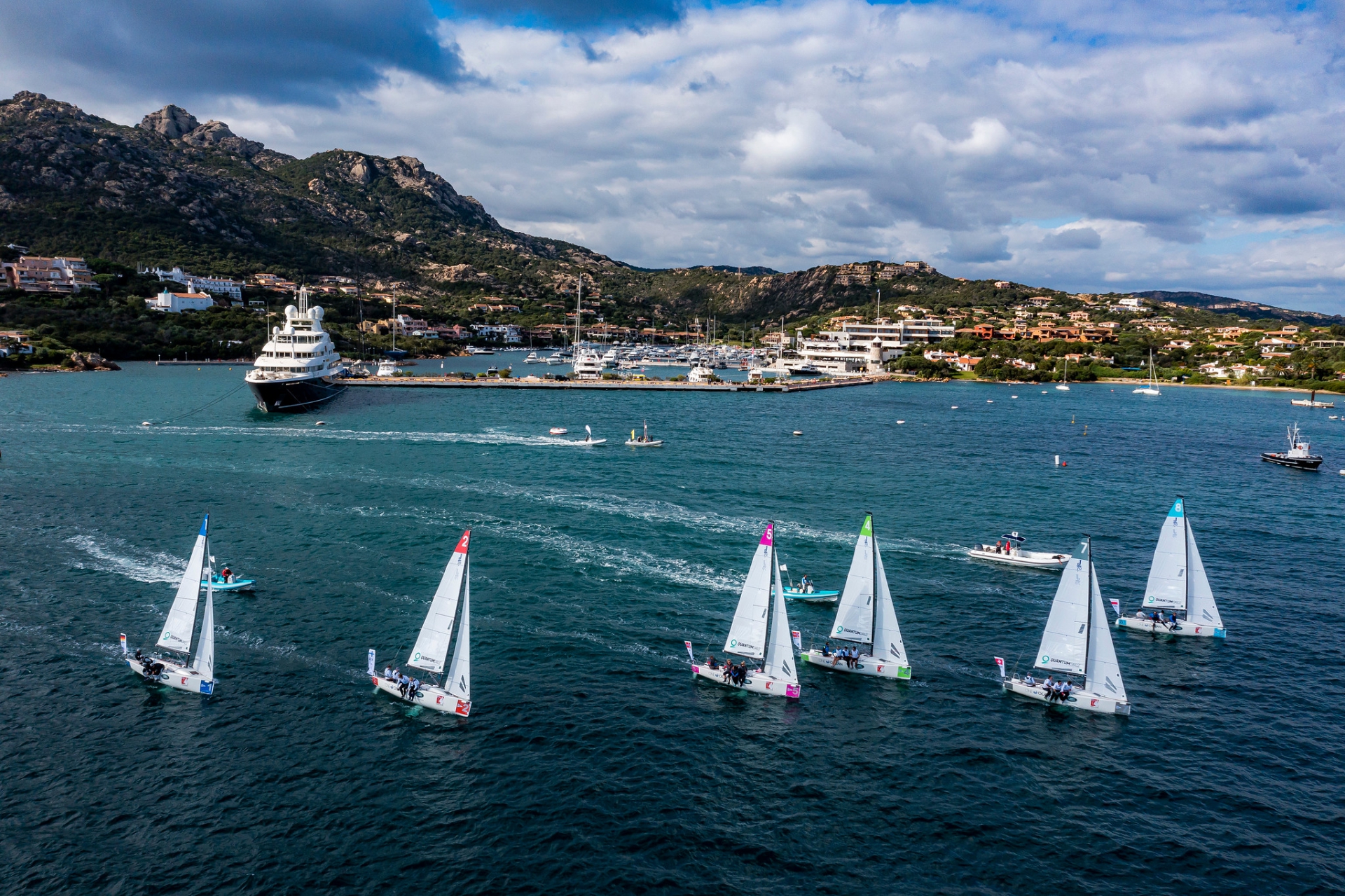 Intense second day of stadium racing in SAILING Champions League Final
Teams from Seglervereinigung Kreuzlingen, Esbo Segelförening, Onekiel and the Royal Danish Yacht Club currently hold top 4 spots in the provisional overall classification
Porto Cervo, 9 October 2021. A long and intense second day at the SAILING Champions League saw 21 races held and 8 flights now completed. The Swiss team from Seglervereinigung Kreuzlingen has taken control of the provisional leaderboard, ahead of Finand's Esbo Segelförening and the German Onekiel team in second and third place respectively.
The usual daily briefing was held in Piazza Azzurra at 9 a.m. this morning, where the 29 teams taking part in the event were informed that once again the conditions outside of the harbour were not suitable to allow for safe racing. All crews were therefore told to meet on the regatta course set up within Porto Cervo's marina for a second day of stadium racing.
Eight hours of racing saw 21 races held which, added to yesterday's 11, bring the fleet to a total of 32 races and 8 flights completed. Variable and gusty winds, blowing at 18 to 22 knots this morning before falling to 12 to 14 knots in the afternoon, made the racing, as well as the reading of the race course, a highly technical exercise for the crews taking part.
The teams at the top of the leaderboard changed throughout the day, and the top four crews are separated by just four points. At the conclusion of today's competitions, the Swiss team from Seglervereinigung Kreuzlingen now sit in the lead in the provisional overall classification, having made up for two difficult races where they placed fifth, with two victories and two second places. The Finnish sailors on Esbo Segelförening had a challenging day with mixed results (1-2-4-6-1-5) that were, however, sufficient to take second place overall. On equal points and in third place overall, the German crew of Onekiel racked up two wins along with a third, fourth and fifth place finish today. At the conclusion of the round robins tomorrow, the top four teams in the overall rankings will proceed to the final. All is still to play for, with the Royal Danish Yacht Club currently sitting in fourth place, just one point ahead of Verein Seglerhaus am Wannsee, and several other clubs vying for a place in the final no more than four points behind.
Tom Rüegge, helmsman of Seglervereinigung Kreuzlingen: "We have been racing together as a team for around 20 years and our communication on board works well. At the minute the top ten teams all have a chance of getting into the final tomorrow, it will be a very hard-fought battle."
The briefing for tomorrow, 10 October, has been moved forward to 8 a.m. with the first start scheduled for one hour later. From 12 midday the races can be followed via Live Streaming.
During the SAILING Champions League Final the principles of the One Ocean Foundation's Charta Smeralda, supported by the YCCS, will be promoted.
Quantum Sails and Garmin Marine are Technical Partners of the event.