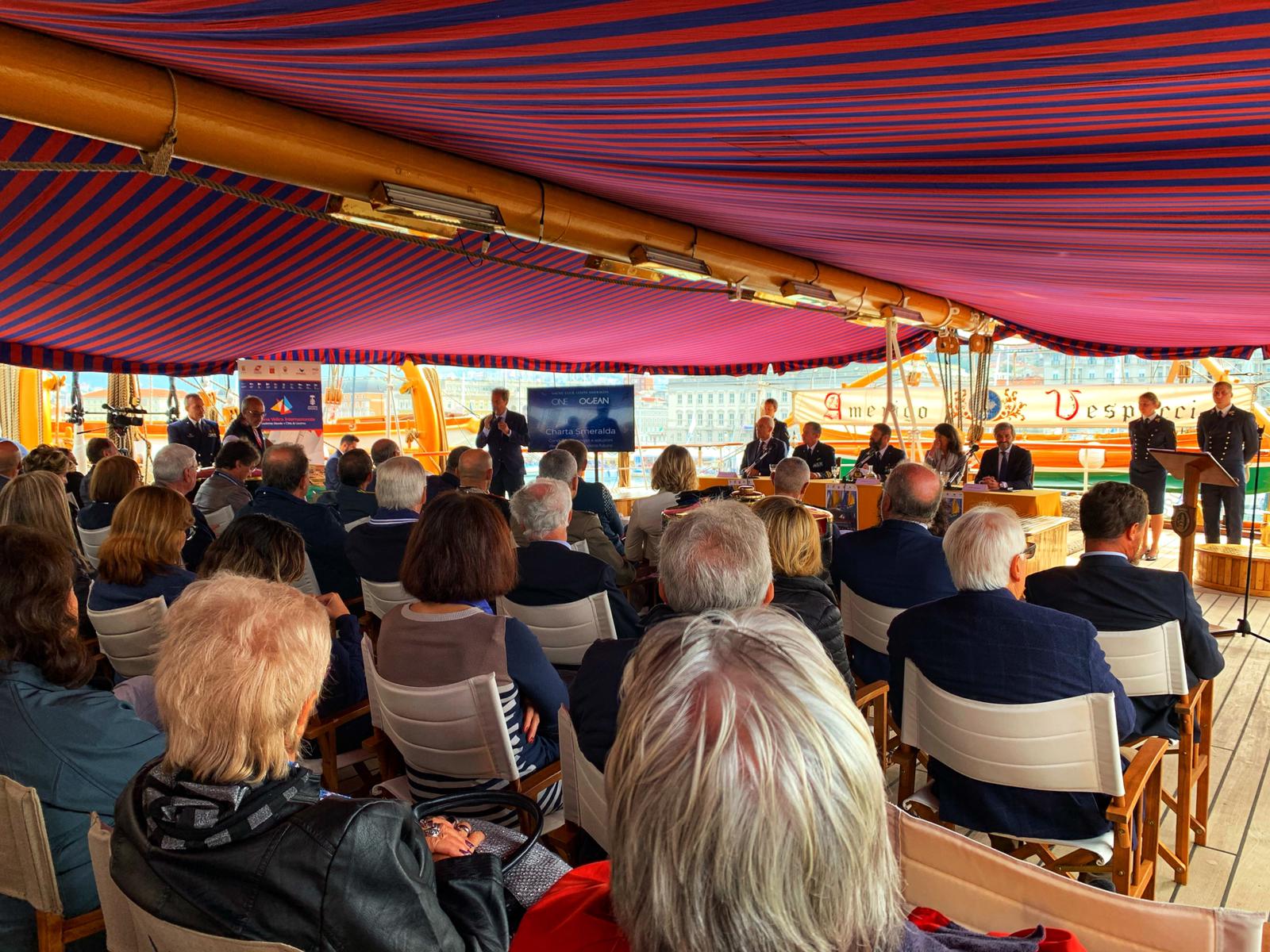 Settimana Velica Internazionale 2020 presented on Nave Vespucci
Trieste, 12 October 2019. The programme for the Settimana Velica Internazionale (International Sailing Week) was presented this morning on board the Nave Amerigo Vespucci, the event will run from 25 April to 3 May.
The "Regata dell'Accademia Navale" (RAN) will also be held as part of the schedule, an offshore race covering 630 miles with a course that touches on the Central Tyrrhenian sea and sees the fleet departing from Livorno before crossing a gate in Porto Cervo in Sardinia and then continuing into the Gulf of Napoli and returning to Livorno. The RAN is open to Maxi offshore, IRC/ORC, and 9.50 Class boats and is one of the longest races in the Mediterranean.
The Yacht Club Costa Smeralda is involved in the organisation and provides logistic support for the event, creating a gate off Porto Cervo. Participants race in compliance with the principles of the "Charta Smeralda", the code of ethics for the safeguard of the ocean promoted by the One Ocean Foundation. The event includes the One Ocean Trophy, dedicated to ocean conservation, awarded to the first yacht to reach Porto Cervo in real time.
During this morning's press conference YCCS Commodore Riccardo Bonadeo thanked the Naval Academy of Livorno for involving the YCCS and supporting the mission of the One Ocean Foundation, adding "Sailing teaches fundamental values such as loyalty, discipline and team work. Yesterday we watched the documentary on the tragedy at the Fastnet '79 which I took part in, and when people ask what I remember from that I always say the spirit of teamwork. Sailing teaches you that, solidarity among the members of the crew, and I'm glad that we appreciate the value of these lessons together with the Navy."
For further info visit the website of the Regata della Accademia Navale.