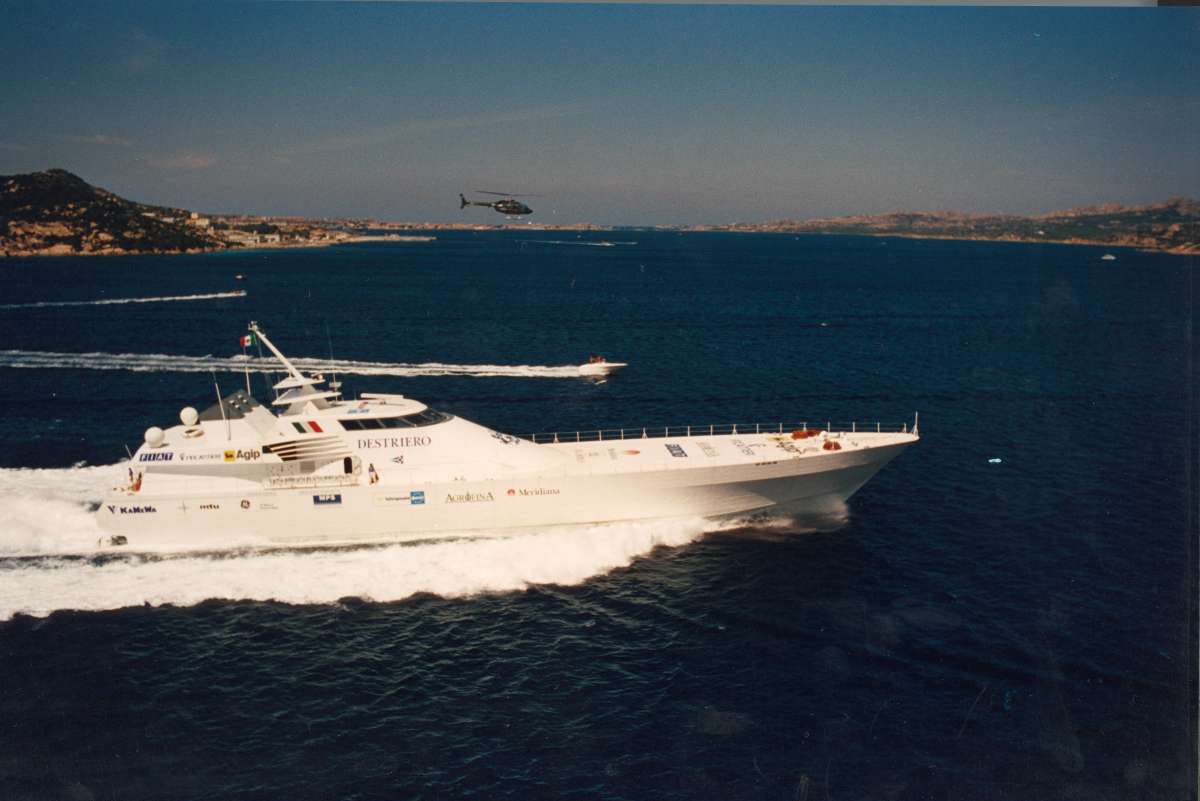 Destriero: A 25-year Record
Porto Cervo, 9 August, 2017. Porto Cervo, 9th August 2017. At 06.14 a.m. and 50 seconds on 9th August 1992 the yacht Destriero, flying the yacht Club Costa Smeralda burgee, passed the Bishop Rock lighthouse in England's Scilly Isles. She had left Ambrose Light off New York on 6th August and covered the 3,000 oceanic miles in 58 hours, 34 minutes and 50 seconds at an average speed of 53.09 knots (98.323 km/h). The record previously held by the British Hoverspeed catamaran was 3 days, 7 hours and 54 minutes at an average speed of 36.6 knots.
Since then the Blue Riband, symbol of a record breaking transatlantic crossing, has been on display at the Yacht Club Costa Smeralda in Porto Cervo.
Waiting to greet the crew on their arrival were H.H. the Aga Khan, the project's main supporter, and Richard Branson, who awarded Destriero the Virgin Atlantic Challenge Trophy that he himself had instituted in 1986 after setting the record with his Virgin Atlantic Challenger II.
The Destriero challenge was born from H.H. the Aga Khan's passion for cutting-edge naval technology. He championed the project and was supported by many of Italy's leading industrialists of the time: Gianni Agnelli (Fiat), Franco Nobili (IRI), Umberto Nordio (Alitalia) and Arrigo Gattai (CONI) as well as prestigious sponsors such as Agip, General Electric, MTU and KaMeWa.
Destriero, a 67.7metre long aluminium ship powered by 60,000 horsepower hydrojet engines, was built by Fincantieri from 1990 to 1991 in their shipyards in Muggiano and Riva Trigoso in Italy over the course of just 270 days. At the time it was the largest ship ever built in light alloy and one of the most efficient, powerful and technological naval vessels in existence.
Destriero still holds the record for the fastest transatlantic crossing and was also awarded the Columbus Trophy by the New York Yacht Club for the fastest return Atlantic crossing.
Destriero crew: Cesare Fiorio - Destriero Challenge project manager, Odoardo Mancini - captain, Aldo Benedetti - second-in-command, Sergio Simeone - first officer, Franco De Mei - telecommunications officer, Giuseppe Carbonaro – chief machinist, Mario Gando and Nello Andreoli - machinists, Massimo Robino - electrician, Silvano Federici and Cesare Quondamatteo - engine technicians, Davide Maccario, Giacomo Petriccione, Michael Hurrle - technicians.