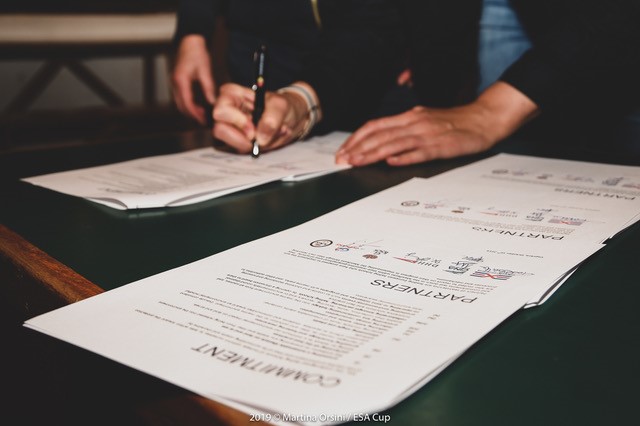 YCCS supports CVC Sea Stewardship Manifesto
Porto Cervo, 21 October 2019. On 10 October the Centro Velico Caprera, during the opening evening of the European Academies Cup, presented the Sea.ste.ma and had it signed by all the main European sailing schools. Sea.ste.ma stands for Sea Stewardship Manifesto, the marine environmental protection project aimed at the major sailing schools across Europe.
Sea.ste.ma is the first major alliance among the principal sailing schools in Europe in the name of the environment and incorporates a programme of concrete actions to reduce the anthropic impact on the environment. The CVC has called for collaboration from all of the most influential sailing schools in Europe on the project.
After signing and promoting the Charta Smeralda, the code of ethics for the protection of our seas issued by the Yacht Club Costa Smeralda's One Ocean Foundation, the Centro Velico Caprera wanted to create, with the support of the YCCS, an operational project to engage from sailing schools across Europe from the bottom up.
"Sea.ste.ma is a project that addresses the important audience represented by the students of sailing schools and the relative communities," commented the President of the CVC Paolo Bordogna, "the programme is composed of just a few simple points, but ones that make a great difference."
The project aims to increase the level of information and awareness on issues related to the environment and at the same time to commit the industry to a gradual but continuous reduction of its environmental impact, through advance adoption, for example, of the EU directives on the ban of disposable plastic, or through the reduction of water and energy consumption, or by applying the principles of best practice in the recovery, reuse and recycling of all potentially polluting materials.
Sailing schools are a privileged point of contact with the younger generations and from the upcoming season the training content of Sea. Ste.ma will be implemented, involving more than 25,000 pupils across Europe who will attend a course at one of the schools that has signed up to the manifesto.
For more information visit the CVC website.