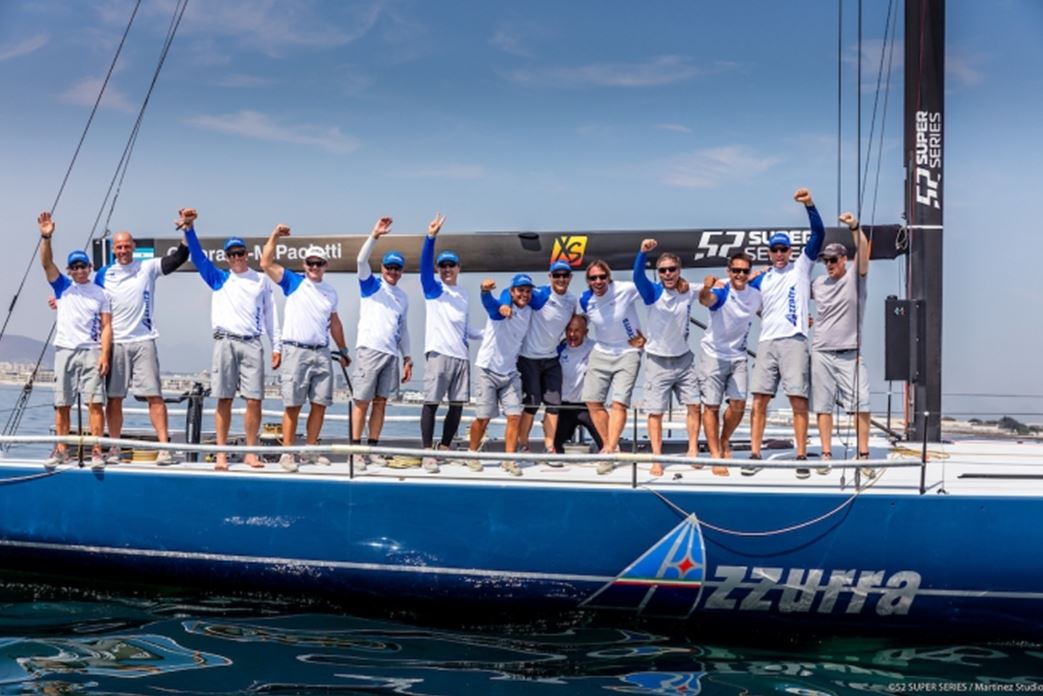 Azzurra wins the first event in the 52 Super Series 2020 in Cape Town
Cape Town, South Africa, March 6, 2020

The boat flying the Yacht Club Costa Smeralda's burgee, defending champion in the most competitive keel boat racing circuit, has won the first event in the 52 Super Series 2020, the Odazla Discovery Camp 52 Super Series V&A Waterfront.

Weather conditions in Table Bay were not on the racing fleet's side: after yesterday's strong winds today it was dead calm. At 14:40 local time the race officials raised the AP over A flags, cancelling racing due to a lack of wind and ending the event. As the fleet headed back to port the overall results remained the same as yesterday's with Azzurra in the lead with a handy seven point margin over Phoenix 11 and Quantum who were tied for second place and came in second and third respectively.

Azzurra has been the star of the week with consistent placements in the various races. The work done on the boat over the winter has given the hoped for results and the new tactician Michele Paoletti has become an integral and important part of the crew playing an important role in achieving this victory.
Even though Azzurra won the 52 Super Series 2019 overall, she hasn't won an event since September 2017 in Mahon, Menorca. The 52 Super Series rules see the season's victory coming from the sum of all points won during the single events with no discards: more than winning the events, it's important to have good scores overall. Azzurra's latest win at an event was at PalmaVela in 2018, but this event is not specifically a part of the 52 Super Series racing calendar.

The next event in this highly competitive Class will be the Rolex TP52 World Championship. Also held in Cape Town from March 31st to April 4th, it will count both as an event in the 52 Super Series and as the World Championship for the TP52 Class.

Riccardo Bonadeo, Commodore of the Yacht Club Costa Smeralda, had these words: "There couldn't have been a better start to the season. This year is Azzurra's tenth anniversary racing in the TP52 Class, and it has been a wonderful collaboration thanks to our club members the Roemmers family. Popping champagne right from the first event in the season gives us an even greater push to sail our best. We know that this season has only just begun, but in the last few days Azzurra and her team have shown that they can sail consistently and handle unexpected situations with pragmatic calm. That's the mentality that gets results both in single events and in the season overall. A round of applause to Azzurra's team and to the Roemmers family from all of us at the YCCS."

Guillermo Parada, skipper: "We are very happy today. The decisions that we made and the work that we did over the winter are giving the results we had hoped for, we have better boat speed and thanks to that we can sail a little more conservatively. I think that conservative sailing has been fundamental for winning this event and I'm happy because it has been a great debut for Michele in his role as our new tactician. There was a lot of pressure on him and it wasn't easy; this result is going to get him some respect from our adversaries and will give him the confidence he needs aboard. We want to dedicate this win to our team member Alejandro Colla who couldn't be here with us because he had an operation yesterday. The surgery went well and we're expecting him back for the World Championship at the end of the month. A special thank you goes to the boat Captain Pedro Rossi for taking Alejandro's place and substituting him so well."

Michele Paoletti, tactician: "This win is the icing on the cake of an excellent week with consistent placements, but we're keeping our eye on the season's victory overall. If we keep on scoring consistently high without worrying about winning single events we can defend our title successfully. Still, this win is something to celebrate, especially for me it has been a real pleasure earned by starting each day focused and concentrated. No racing today made winning easier, but it's always a pleasure to compete."
Odzala Discovery Camps 52 SUPER SERIES V&A Waterfront – Cape Town
1. Azzurra (ARG/ITA) (Alberto/Pablo Roemmers) (4,2,2,2,5,2,7) 24 punti
2. Phoenix 11 (RSA) (Hasso Plattner) (1,3,1,7,8,7,4) 31 p.
3. Quantum Racing (USA) (Doug DeVos) (5,8,4,5,1,6,2) 31 p.
4. Bronenosec (RUS) (Vladimir Liubomirov) (2,10,7,1,6,8,1) 35 p.
5. Sled (USA) (Takashi Okura) (3,4,RDG6,RDG5.5, RDG5.5, RDG5.5, RDG5.5) 35 p.
6. Platoon (GER) (Harm Müller-Spreer) (9,7,8,3,2,1,6) 36 p.
7. Alegre (USA/GBR) (Andrés Soriano) (7,1,DNF11+2,4,3,3,9) 40 p.
8. Provezza (TUR) (Ergin Imre) (6,6,3,8,9,4,5) 41 p.
9. Phoenix 12 (RSA) (Tina Plattner) (8,5,5,9,7,5,3) 42 p.
10. Paprec (FRA) (Jean-Luc Petithuguenin) (10,9,6,6,4,9,8) 52 p.

------------------------------------------------
52 SUPER SERIES 2020 Calendar

Odzala Discovery Camps 52 SUPER SERIES
V&A Waterfront - Cape Town
March 2nd - 6th 2020, Cape Town

Rolex TP52 World Championship Cape Town
March 31st - April 4th 2020, Cape Town

Royal Cup 52 SUPER SERIES Scarlino
May 12th - 16th 2020, Scarlino

Audi 52 SUPER SERIES Porto Cervo & TP52 20th Anniversary Invitational
June 16th - 21st 2020, Porto Cervo

52 SUPER SERIES Valencia Sailing Week
July 18th - 22nd 2020, Valencia

Puerto Portals 52 SUPER SERIES Sailing Week
September 15th - 19th 2020, Puerto Portals

------------------------------------------------
AZZURRA
Pablo and Alberto Roemmers - Owners
Guillermo Parada - Skipper, Helm
Michele Paoletti - Tactician
Bruno Zirilli - Navigator
Giovanni Cassinari - Mainsail
Mariano Caputo - Bowman
Juan Pablo Marcos - Midbow
David Vera - Pitman
Grant Loretz- Trimmer
Ciccio Celon - Trimmer
Mariano Parada - Trimmer
Gabriel Marino - Grinder
Alejandro Colla – Grinder
Nicola Pilastro - Grinder
Pedro Rossi- Boat Captain

Guillermo Baquerizas - Coach
Gonzalo Ramos Vertiz - Sail performances
Juan Garay - Sail Designer
Jean Martin Grisar - Sailmaker
Matias Blanco - Logistic
Sarah O' Kane - Logistic
Timothy Houghton- Rigger
Javier Feliu - Shore Crew
Ross Hunter - Boat Builder
Iñigo Losada - Physical Trainer
Miguel Moret - Physiotherapist
Sebastian Carera - Chiropractor

Media team
Cathrine Roemmers - Social Media
Giuliano Luzzatto - Press Office

Contact:
Giuliano Luzzatto
Media Relations
Tel. +39 348 5966160
pressoffice@azzurra.it
www.azzurra.it
https://www.instagram.com/azzurrasailing/