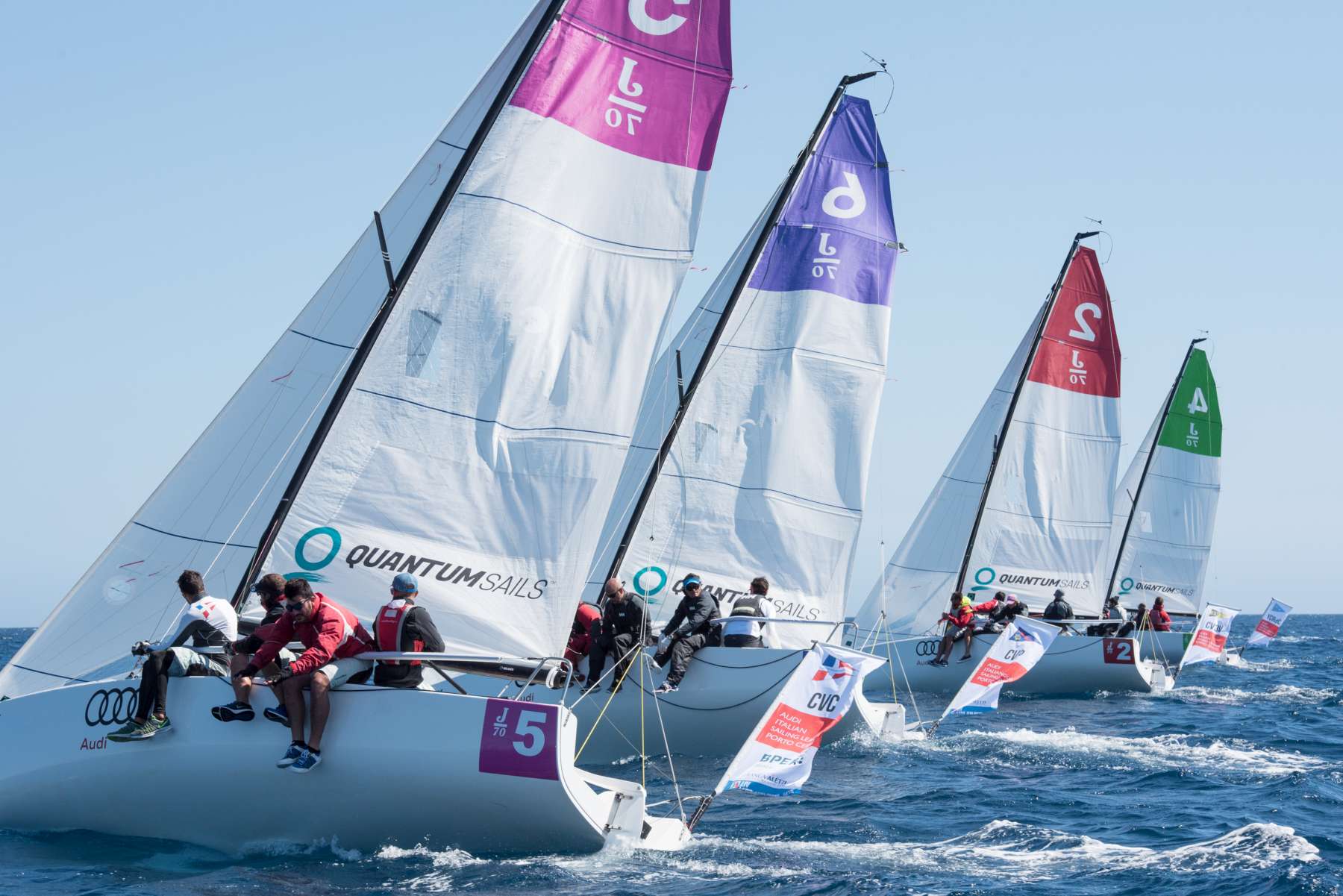 Audi Italian Sailing League Final gets underway
16 qualified clubs ready to do battle for the title of National Club Champion
Porto Cervo, Italy. 27 September 2018. The Audi Italian Sailing League Final got underway today as 16 clubs from across Italy arrived to compete for the title of National Club Champion. The event, organised by the Yacht Club Costa Smeralda with the support of title sponsor Audi in collaboration with the Italian Sailing League (Lega Italiana Vela), will run through Sunday 30 September.
Today teams tried out the fleet of J/70 boats belonging to the YCCS that they will compete on from the first scheduled start at 12 midday tomorrow, 28 September. Sixteen flights of racing are scheduled over the three days of competition on the water, with a format of short windward-leeward races promising hard-fought contests.
Among the teams that will face off on the regatta course off Porto Cervo is the Circolo della Vela Bari which recently claimed the title of "Best Sailing Club" of the year, winning the final of the Sailing Champions League in Saint Moritz. The Circolo Canottieri Aniene will look to defend the title they clinched last year against Bari and teams from the Marina Militare, Aeronautica Militare, Centro Velico 3V, Circolo Nautico Sambenedettese, Circolo Vela Bellano, Club Nautico Rimini, Club Vela Portocivitanova, Club Velico Crotone, Compagnia della Vela Venezia, Fraglia Vela Malcesine, Società Canottieri Garda Salò, Yacht Club Gaeta, Yacht Club Riviera del Conero and Yacht Club Sanremo.
Yacht Club Costa Smeralda Commodore, Riccardo Bonadeo, declared: "We are delighted to host the Italian Sailing League final, which will decree the national club champion, for the first time. Interclub events like this one represent a unique opportunity to attract young people to sailing, allowing them to develop a sense of fair play and underlining the spirit of belonging to their club. I would like to thank the Italian Sailing League for having believed in and supported the One Ocean sustainability project from the outset by signing the Charta Smeralda, a code of ethics to safeguard our seas which guides our activities. I welcome all the teams from across Italy and I wish everyone fair winds."
Roberto Emanuele de Felice, President of the Italian Sailing League, commented: "We are looking forward to three intense days of sailing in one of Italy's most beautiful seas and I know that each of the Clubs will give their all to claim the title: I wish the organisers all the best in their work and may the best team win."
The first starting signal is scheduled for tomorrow at 12 midday, light breezes are forecast.
Quantum Sails and Garmin Marine are Technical Partners of the event.
Contacts
YCCS PRESS OFFICE

Marialisa Panu/Giuliano Luzzatto
Tel. +39 0789 902223
E. pressoffice@yccs.it
www.yccs.com